Between 5 to 10 percent of all women have polycystic ovary disease syndrome, or PCOS, a hormonal disorder characterized by larger than normal amounts of the male hormones called androgens. The name of the disease comes from the appearance of the ovaries, which have numerous small cysts. Women with PCOS often have insulin resistance, which leads to weight gain, anovulation, lack of ovulation and an inability to get pregnant and hirsutism. Several types of vitamins have been tried to reduce insulin resistance and induce ovulation.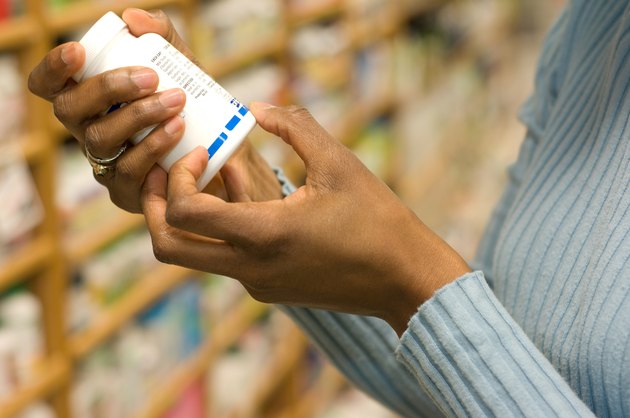 Inosotol
Sometimes known as vitamin B-8, inosotol reduced insulin resistance and improved symptoms in women with PCOS in a study conducted by Virginia Commonwealth University. A 2007 Italian study conducted by the University of Perugia and reported by lead author S. Gerli also found that inosotol given with another B vitamin, folic acid, improved ovulatory function and also raised high-density lipoprotein levels, the protective "good" type of cholesterol. The study, which lasted 14 weeks, followed 92 women, half taking folic acid only as placebo and half taking a combination of inositol and folic acid. The inositol plus folic acid began to ovulate in 25 percent of cases, compared to 15 percent for the folic acid only group.
Folic Acid
In the University of Perugia study, folic acid, also known as vitamin B-9 was given along with inositol. The combination of the two worked better than folic acid alone to improve PCOS symptoms. Folic acid has a protective effect against neural tube defects that occur in early pregnancy, so women with PCOS trying to get pregnant should take at least 400 mg of folic acid daily.
Vitamin D
The Yale PCOS Program states that vitamin D is given as part of their lifestyle management program to treat PCOS, because many of the symptoms of vitamin D deficiency also affect women with PCOS. Symptoms include insulin resistance, increased weight and increased risk of developing heart disease and diabetes. Both vitamin D and calcium are given to decrease insulin resistance and decrease PCOS symptoms. Yale University is currently conducting a clinical trial on the benefits of Vitamin D and calcium in PCOS.