Fasting is done for several reasons. You may be preparing for surgery, practicing a religious tradition or trying to better your health. Staying hydrated is most important while you are fasting. You can survive on clear liquids for only a few days, but you can safely consume pureed liquids for long periods of time. Ask your doctor about the right types of fluid foods you can consume while fasting.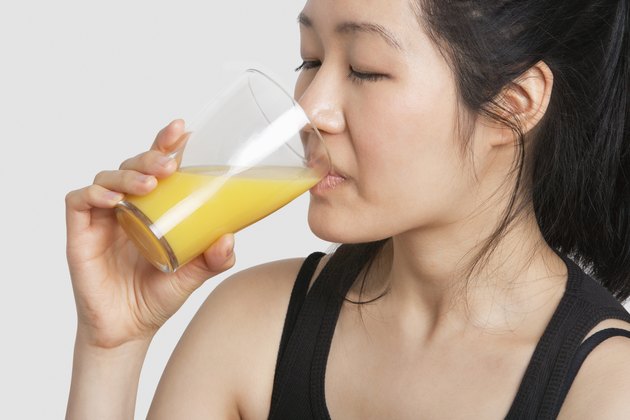 Clear Liquids
Drinking clear liquids while fasting will keep you hydrated, but will not offer many nutrients. During a fast, you may want to drink clear foods and beverages such as water, broth, water, apple juice, cranberry juice, plain gelatin, ice pops, tea or black coffee. These are all liquids and foods that you can see through -- even tea and coffee can be transparent in a glass container. If you need to follow a strict clear liquid diet, do not consume juice with pulp, ice pops with pieces of fruit or milk in your coffee. MayoClinic.com reports that you should not restrict yourself to a clear liquid diet for more than a few days since the calories and nutrients are limited.
Unclear and Solid Liquids
Your fast may allow you to enjoy other types of liquids in addition to clear ones. This list of foods includes those that are solid, but melt at room temperature, such as ice cream. Liquids to enjoy may include juice with pulp, skim milk and strained creamy soup. You may also add half-and-half to your coffee. If you are fasting for surgical reasons, these liquids can be sipped through a straw so you can consume small amounts at a time. Make yourself a protein shake with a powdered whey protein supplement, skim milk and low-fat frozen yogurt. These types of foods offer some calories, nutrients and fiber.
Soups and Pureed Foods
Your fast may allow you to consume foods that are pureed. Pureed foods offer the nutrition your body needs and will help keep you satisfied while you are fasting. Buy your favorite low-sodium soup and puree it. You can drink it from the bowl or sip it through a straw. Make yourself a smoothie with low-fat vanilla yogurt, orange juice and a few ice cubes. This drink will provide your body with calories, protein and fat. You can puree some of your favorite dinner foods such as ground beef, gravy and mashed potatoes. If you are unable to eat solid foods, pureeing your meal together may be an alternative way for you to ingest these nutrition sources.
Other Considerations
You may need to discontinue all medications and dietary supplements while you are fasting. Check with your physician if you are going through a medical fast. Fasting as a way to diet is not always effective. Vanderbilt University reports that liquid diets provide 400 to 800 calories per day. While you may lose fat initially, 95 out of 100 people will gain the weight back.