Whether you're powering through your workouts or just staying focused throughout the day, you need oxygen to function. If you're low in oxygen, your cells don't have the tools they need to make energy, so you can feel fatigued, develop a rapid heart rate and lose your breath easily during exercise. Simply eating specific foods won't boost your blood oxygen levels unless you're missing key nutrients in your diet. See your doctor if you suspect you have low oxygen levels -- a physician can help pinpoint the cause and recommend an effective treatment to get your oxygen levels back to normal.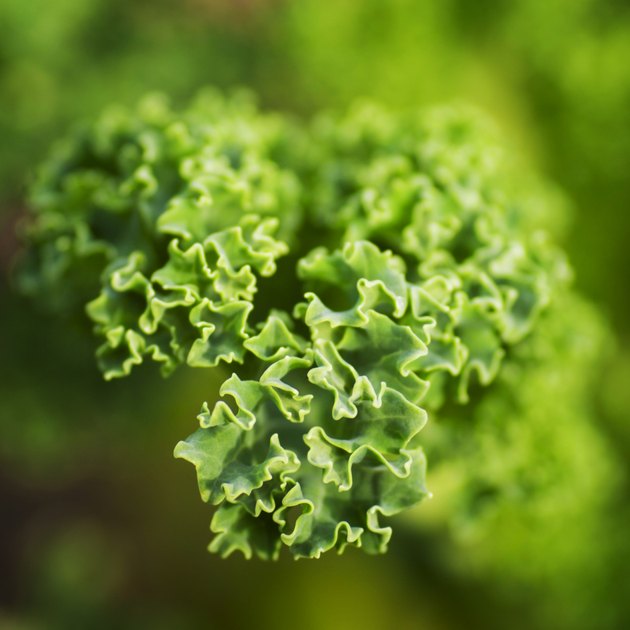 Meat and Fish
Low iron levels are the most common nutritional cause of low blood oxygen -- and one of the most common causes, period, according to Stanford Blood Center. Your red blood cells are full of iron, which is found in a protein called hemoglobin. This iron binds to oxygen from the air you breathe, carries it throughout your body and releases it so it can enter your cells and tissues. Low iron levels -- a condition that affects one-third of regular blood donors, according to Harvard Medical School -- reduce the amount of oxygen in your blood.
You need between 8 and 18 milligrams of iron daily to prevent a deficiency, depending on your age and sex. Meat and fish serve as great sources of iron to help you meet your goals. A 6-ounce portion of canned tuna, for example, has 2.6 milligrams of iron -- slightly more than a 3-ounce serving of beef, which offers 2.3 milligrams. Oysters are very high in iron, at 5 milligrams per 6-oyster serving. A 3-ounce serving of dark-meat chicken has 1.1 milligrams of iron, while a serving of eight large shrimp supplies 1.4 milligrams.
Plant Sources of Iron
You can also boost your levels of blood iron -- and therefore oxygen -- through other iron-rich foods. An ounce of cashew nuts or a medium baked potato each offers 1.9 milligrams of iron, while 1/2 cup of kidney beans boosts your iron intake by 2 milligrams. Lentils also boast an impressive amount of iron -- 3.3 milligrams per 1/2 cup -- and a quarter block of tofu has 2.2 milligrams. Some breakfast cereals also contain iron, though the amount per serving can vary among brands.
These foods contain a different form of iron, called nonheme iron, that isn't absorbed as easily as the iron from meat. To boost iron absorption, pair them with foods that have vitamin C, like citrus fruits and vegetables such as bell peppers. For example, eat your lentils or beans on top of a spinach salad, add cashew butter to a fruit smoothie or use tofu in a vegetable stir-fry to boost iron absorption.
Foods High in Folate or Vitamin B-12
If your diet lacks folate or vitamin B-12, eating foods rich in these nutrients might boost your blood oxygen levels. Folate, also called vitamin B-9, helps your body make red blood cells -- the iron-rich cells that carry oxygen in your blood. Vitamin B-12 helps you make hemoglobin, the protein that contains oxygen-carrying iron.
Boost your folate intake by including citrus fruits and dark leafy greens in your diet. You can get more vitamin B-12 through meat, fish and shellfish -- a single 3-ounce serving of salmon, mackerel, beef, mussels, clams or Alaskan king crab will provide all you need for the day. Many breakfast cereals and breads come fortified with folate, and some varieties have added B-12, too -- check the label to make sure.
Other Nutrients for Increasing Blood Oxygen
A few other nutrients can influence the level of red blood cells and iron in your blood -- and, by extension, the level of oxygen. For example, protein provides amino acids your body uses to make cellular proteins -- including oxygen-transporting hemoglobin. Meat, fish, shellfish, eggs and dairy all offer oxygen-boosting protein, as do nuts, seeds, beans and legumes.
You also need vitamin A to make oxygen-carrying red blood cells. Your body constantly pumps out new red blood cells to replace old, damaged ones, and it needs vitamin A for healthy red blood cell development. If you're deficient in vitamin A, getting more of it can boost your blood hemoglobin levels, so that your blood cells can carry more oxygen. Chow down on dairy products, red and orange produce -- sweet potatoes, cantaloupe, mangoes, pumpkin and butternut squash -- and leafy greens like collards and kale, to get more vitamin A.