Cardio isn't the only way to win the battle of the belly bulge. Weight training effectively builds muscle so your body burns more calories at rest and counters the natural loss of muscle that occurs as you age.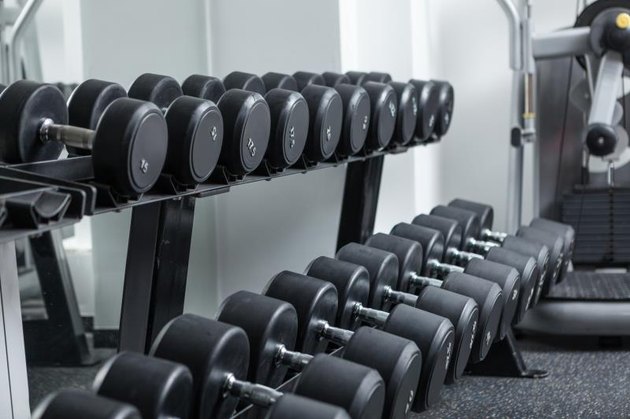 Even if you don't experience a huge drop in the number on the scale, weight training will help you lose belly fat and gain muscle. Weight training combined with cardio provides the greatest belly-fat loss.
Research Stands Behind Weight Training
Standard fat-loss advice says you should consume fewer calories than you burn so your body turns to fat stores for fuel, and you subsequently slim down. Weight training doesn't burn a huge number of calories per session, so it might seem more sensible to spend all your workout time running or cycling to maximize fat loss. However, weight training builds and maintains muscle mass in a way that cardio exercise can't.
When you build muscle, you increase your body's ability to burn calories at rest. Muscle tissue requires more calories to maintain than fat. This helps you burn more calories and burn them more efficiently for fat loss all day long, rather than only during the aerobic session.
This means your middle shrinks faster, along with other parts of your body. A study published in a 2013 issue of the International Journal of Cardiology showed that high-intensity resistance training induces faster belly fat loss than cardio activity alone.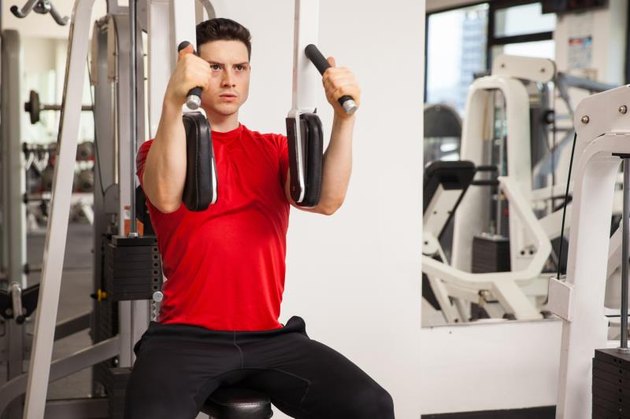 Weight Training Prevents Belly Fat Accumulation
Weight training becomes particularly important as you age. It helps mitigate the natural loss of muscle mass and the resulting drop in your metabolism that occurs as you grow older, thus deterring the accumulation of excess fat.
Men who trained 20 minutes every day with weights for 12 years experienced less increase in abdominal fat than those who spent 20 minutes daily doing high-intensity aerobic activity, according to a 2014 study published in Obesity.
Tip
A fitness professional can be helpful in designing a balanced weight-training program. They can also assist you in proper form so you get the best results and avoid injury.
Following a Weight-Training Program
Aim for at least two sessions per week that address all the major muscle groups: back, chest, legs, arms, shoulders, abdominals and hips. Do at least one exercise for each of these muscle groups and use a weight that feels heavy after eight to 12 repetitions.
Start with just one set of each exercise and work your way up to three sets over time. When the weight becomes too easy, increase it by 5 to 10 percent.
Combine Weights With Other Fat-Loss Strategies
Make changes to your diet, along with weight training, to experience a greater loss of belly fat. Cut back on refined sugar, refined grains and saturated fat and, if necessary, reduce your overall caloric intake.
When you eat 500 to 1,000 calories fewer than you burn daily, you should lose between 1 and 2 pounds per week. All of these pounds won't come from your belly, but you'll eventually see a reduced midsection.
Pair weight training with high-intensity cardio exercise to further accelerate belly fat loss. Teens are particularly responsive to this combination, according to a study published in the Journal of Sports Science in 2014.
Aim for at least 30 minutes per day of moderate-intensity aerobic activity daily, such as brisk walking. Exercise longer and at a greater intensity to see better results.