Attempting to lose weight while strength training pushes your body in two different ways -- you are building muscle, which is denser than fat, while at the same time trying to decrease your overall body weight. Although it sounds contradictory, this weight loss strategy can work. However, if you are dieting you will not gain muscle as quickly as you would if you were not.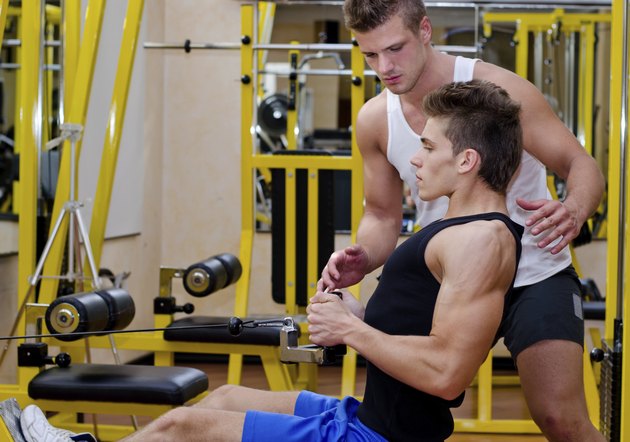 Calories
Most of the calories your body burns every day are used simply to keep you alive. All basic body functions require calories -- breathing, heartbeat, digestion and maintaining body heat, among others. Only a minority of the calories you consume are used to fuel exercise, even if you are an athlete. The more efficiently your body uses calories, the more it is likely to store what it doesn't use as fat -- in other words, people who gain weight easily often have slow metabolic rates.
Muscle vs. Fat
Although your metabolic rate is largely determined by your genes, you can raise it by raising your muscle-to-fat ratio, because a pound of muscle requires more calories to maintain than a pound of fat. If you build muscle, you will increase your muscle-to-fat ratio even if you don't lose any fat. The resulting increase in your metabolic rate will cause your body to burn fat for energy to maintain your new muscle. Accordingly, engaging in a vigorous strength training program is a good strategy for losing weight permanently.
Nutrition
Physician Melina Jampolis confirms that most people can't gain more than a few pounds of muscle per week, and recommends that people undergoing strength training increase their calorie intake by 500 to 1,000 calories per day. To build muscle and lose overall body weight at the same time, however, reduce your calorie intake by about this much to lose 1 to 2 lbs. a week, which is the maximum sustainable weight loss. A net calorie deficit slows your muscle growth, but need not bring it to a standstill -- you can partially offset the effect by consuming 1.2 g of protein per kilogram of body weight every day. Consume protein before, during and after strength training for maximum effect, even if you have to use a protein supplement.
Spot Reduction
Some people try to reduce fat deposits covering a particular body part by focusing exercise on that body part -- doing abdominal exercises to reduce belly fat, for example. According to the American Council on Exercise, however, this doesn't work -- your body has its own weight-loss blueprint, and you lose fat wherever you gained it first no matter where you focus your exercise.