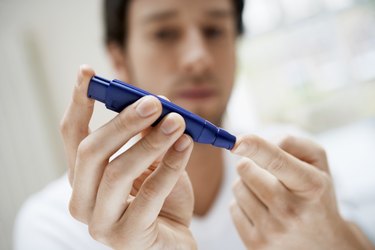 Your blood glucose levels can determine whether you have or are at risk for developing diabetes, a condition in which your body no longer effectively processes and absorbs glucose from the bloodstream. Blood glucose levels fluctuate during the day, particularly after meals. Postprandial -- which means after eating -- glucose levels that rise beyond a certain level may mean you have diabetes or prediabetes. However, two-hour postprandial blood sugar testing is not recommended to screen for or diagnose diabetes.
Normal Rise and Fall
Two to 3 hours after eating a meal, blood glucose levels typically fall to normal fasting levels. For people without diabetes, this is typically 125 mg/dL or less, according to criteria established by the American Diabetes Association. If your 2-hour postprandial blood glucose level is higher than 125 mg/dL, your doctor will likely order one of the ADA-recommended blood tests for diagnosing diabetes. The options include a hemoglobin A1c test and an oral glucose tolerance test.
Prediabetes
Before developing type 2 diabetes, many people go through a phase called "prediabetes." With this condition, postprandial blood sugar levels are typically abnormally high -- but not elevated enough to meet the criteria for a diagnosis of diabetes. Modest weight loss, increased physical activity and dietary changes can often prevent prediabetes from progressing to type 2 diabetes.
Is this an emergency? If you are experiencing serious medical symptoms, please see the National Library of Medicine's list of signs you need emergency medical attention or call 911.