Precor manufactures exercise equipment for commercial and home use, including a line of elliptical trainers. Known for mimicking the motion of running, yet without any stress to the joints, elliptical trainers are simple to use and provide an effective cardiovascular and muscle strengthening workout. The best workout for a Precor elliptical will depend on your overall fitness goals.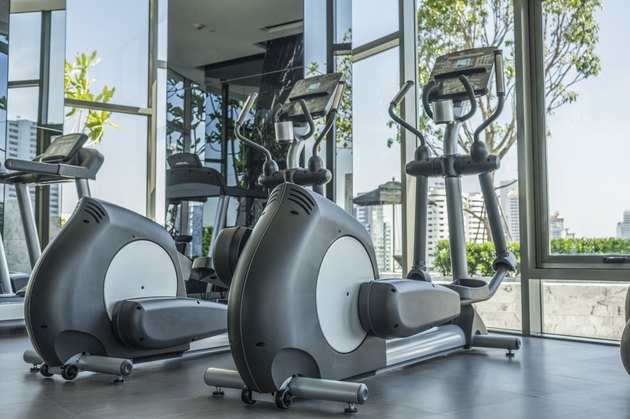 About Elliptical Trainers
Elliptical trainers work on resistance and can burn between 270 and 400 calories in 30 minutes, depending on your body weight. Increasing the resistance level makes your session more challenging while also aiding the muscle-building benefit to your legs and glutes. Simple to use, the elliptical pedals glide back and forth as you assume a running motion. Very little impact is placed on the joints, which makes the elliptical trainer ideal for people with hip or knee issues.
Precor Features
There are numerous different models of Precor ellipticals but most machines offer similar features. Preset programs are a staple on Precor cross-trainers -- as they are also called -- and allow you to choose between manual use, hill climbing, heart-focused workouts, fat burning and several others. Some Precor machines offer moving arms, which allows you to train your upper body along with the legs. Most Precor cross-trainers also contain an adjustable cross-ramp; a steeper grade allows you to target the back of your legs and glutes. Heart rate monitors are built into the exercise machines and TV consoles are becoming a regular feature for the brand. Precor elliptical machines are also self-energizing, which means they do not need to be plugged in; the pedaling energizes the machine.
Elliptical Workouts
The best workout on the Precor elliptical depends on your fitness goals. Weight loss requires maintaining a moderate to intense rate of exertion for 30 to 60 minutes, three to five times per week. Turning up the resistance level and the incline can help you to maximize muscle growth in your lower body, glutes and core. Performing intervals benefits aerobic conditioning and are effective cross-training workouts for sports like swimming and tennis.
Stride Rate
Maintaining a specific stride rate and a rate of perceived exertion during your elliptical session -- as long as your heart rate is in target range -- can help you to execute the best and most efficient workout. Pedaling above your maximum-targeted stride rate means that the resistance level should be increased; decrease the resistance if you are pedaling below your minimum stride rate. Beginners should aim for an initial stride rate of 130 per minute and increase to 170 with an exertion rate of two to four on a scale of one to 10, with one being very light and 10 representing very heavy. An intermediate level of fitness calls for a stride rate of 120 with an increase to 150, and an exertion rate of two to three. Advanced exercisers should start with a stride rate of 140 and increase to 170 with an exertion rate of two to four.
Considerations
Always warm up for at least the first five minutes of your elliptical session by pedaling at a moderate rate. Cool down and stretch at the end of your workout. Aim to complete at least 150 minutes of cardio activity per week, spread out over three to five days. Keep the resistance levels in line with your fitness ability to avoid injuries -- too much too soon can impede progress. Consult with your physician before starting a new cardio fitness program.