We all know we should focus on eating nutritious, fresh, whole foods. But let's face it: There's nothing quite like the satisfying feeling of sitting in front of the TV with your favorite packaged snack. From the hyper-palatable flavor of spicy or savory potato chips to the satisfying richness of a buttery cookie, you can't possibly stop at just one bite. And according to a small May 2019 study published in Cell Metabolism, it really is that easy to overeat processed food.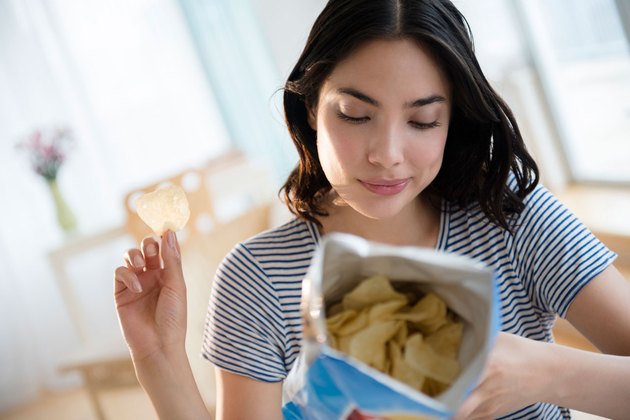 In order to assess the impact of ultra-processed foods on obesity, 20 adults were assigned either a highly processed or unprocessed diet for 14 days and told to eat as much as they wanted. The meals provided had the same amount of calories, sugar, fat, fiber and macronutrients. The subjects were then asked to switch diets, following the opposite regimen for another two weeks.
When they were eating the ultra-processed food, people consumed about 500 extra calories a day, the study found. And, perhaps unsurprisingly, those additional calories led to weight gain, with study subjects putting on around 1 kilogram (2.2 pounds) while following the processed diet. However, once the processed food eaters switched to eating only unprocessed meals, they lost the added weight.
Researchers concluded that highly processed foods are probably best avoided. "Limiting consumption of ultra-processed foods may be an effective strategy for obesity prevention and treatment," the study authors wrote. So while a bag of chips may be just what you're craving after a long day at work, a handful of baby carrots is surely a healthier choice.
Do you want to lose weight or be healthier? Sign up today for MyPlate Calorie Counter for access to free meal plans, healthy recipes and at-home workouts!