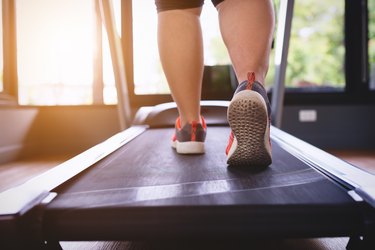 The human body is capable of losing more than three pounds in one day. However, that kind of weight loss is reserved for people who are severely over-weight. Rapid weight loss is often due to water loss and is regained once food or beverages are consumed. In addition, physical activity, diet and illness can cause your body weight to fluctuate. For long-term results, you should lose no more than one to two pounds per week.
Weight loss occurs due to loss of water, muscle or fat. Proper dieting and exercise results in burning fat calories. Healthy weight loss is typically no more than two pounds per week; which breaks down to about 1/4 of a pound per day. Loss of muscle tissue, or muscle atrophy, is not noticeable in one day. This type of weight loss occurs after several weeks of disusing muscles or because of a lack of nutrients needed to sustain muscle tissue, according to the American College of Sports Medicine. Water weight loss results in the most weight loss per day. Sweating and dehydration can cause more than three pounds of weight loss in one day, but it will be regained almost immediately upon consumption of food or beverages.
Inappropriate Weight Loss Methods
Fad diets, extreme exercising, liquid diets, starvation diets and using saunas or steam rooms for weight loss can be dangerous. Do not attempt any rapid weight loss scheme without first talking with a physician or health care professional. These methods can have dangerous side affects, such as high water loss or an imbalance in electrolytes leading to cardiac dysrhythmias, according to the American College of Sports Medicine. Although you may lose weight in a day, the results are temporary, while the side-effects may be long term.
Using diet and exercise to create a healthy caloric deficit will result in a one to two pound weight loss per week. For this to happen you need to create a calorie deficit. If you're regularly eating more than the recommended diet of at least 1,200 calories per day for women and 1,800 calories for men, it won't be simply a matter of following the old saw of cutting 500 calories from your daily caloric intake and use physical activity to burn 500 calories per day. You'll have to reduce your calories to a healthy level and commence exercising. One way to keep yourself in check is to use an online calorie estimates calculator like the one on the American Council on Exercise's website.
Follow the Centers for Disease Control and Prevention's guidelines for recommended exercises and duration of each for losing weight or maintaining a healthy weight. You should perform aerobic exercises at least 150 to 300 minutes at a moderately-intense level or 75 to 150 minutes at a vigorous level a week. Add in two sessions of 20-minute long strength-training activities on non-consecutive days and you'll be setting yourself up for success.