Steaming presents a time-tested method of cooking healthy, nutritious foods. Many steamers include inexpensive vegetable steamer baskets that fit varied pot sizes. Double boilers, long used for steamed puddings and sauces, consist of two pots positioned together. Manual and electric rice steamers prepare rice dishes, while bamboo steamers cook meal ingredients while the steamer rests inside a wok. A fish poacher uses a stainless-steel rack positioned above boiling water.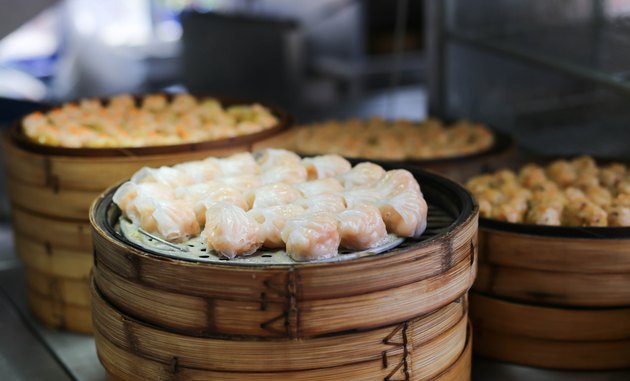 Meats
Steamed meats offer a finished product that retains most of its volume and moisture. For example, tender beef and lamb leg and loin cuts steam very well; tougher-textured meats may prove more difficult, the Meat Cuisine website advises. Meats often cook within an enclosed steam chamber; you can also steam them inside a container placed above or inside boiling water. Commercial steamers offer additional steaming methods. Keep the meat's container tightly closed to increase cooking efficiency.
Fish and Seafood
Steamed fish steaks and fillets can make for an easily cooked, nutritious entrée. Steam an entire cleaned fish if you have room in your steamer basket. Cook the fish until you can easily flake it with a fork. Thick steaks and whole fish take more time than smaller fillets. Cook clams and oysters by cleaning and steaming them inside a conventional steamer basket. Steam deveined, de-headed shrimp until they turn a pinkish color.
Chicken and Small Game Birds
Some poultry products, such as boneless chicken breasts, are ideal candidates for steam cooking. Steam small whole birds such as pheasant and Cornish hens as well. Steam poultry in a covered steamer basket over boiling water, or on a rack above a securely covered pan of water. Marinate the poultry first, or add flavorful vegetables and herbs to the steaming water. Cut through the poultry's top and bottom surfaces to ensure more even cooking, the RecipeTips website recommends.
Vegetables
Properly steamed vegetables provide a cornucopia of nutrients and exhibit a tender exterior with an interior crispiness. Vegetable steaming times vary with the type or size of vegetables. For example, a denser vegetable such as carrots requires more steaming time than broccoli. Monitor the pot's water level; add more if necessary. Vegetables are correctly steamed when you easily slip a thin-bladed knife into the thickest part of the vegetable.