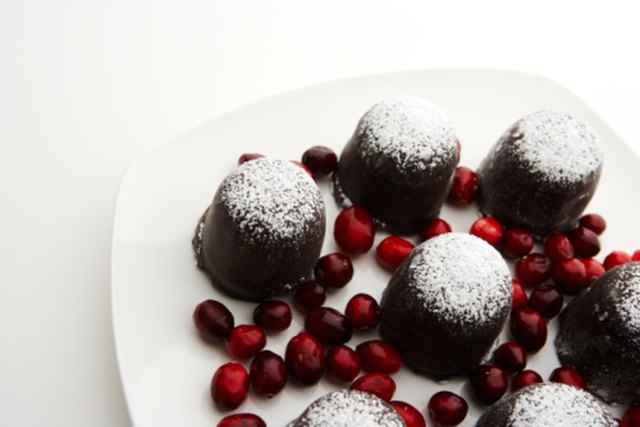 Triglycerides are the most common form of fat in both foods and the body. Your body utilizes them for energy in the absence of carbohydrates, usually between meals. Like high levels of cholesterol, high triglycerides might increase your risk for coronary artery disease, as reported by the American Heart Association. Fortunately, lifestyle changes, including eating a healthy diet and following an exercise routine, have been linked with lowered triglyceride levels.
Triglycerides and Diet
Your body uses the food you eat to create the energy necessary to fuel all of your bodily processes and sustain life. Unused calories get stored as triglycerides, which means that consistently eating too many calories will raise your triglyceride levels. While you might think of dietary fat as the main culprit of high triglyceride levels, the biggest dietary influence on your levels is the excess consumption of refined sugars, natural sugars and refined carbohydrates, explains the Cleveland Clinic. However, since your body stores fats as well, you must take care to limit excess consumption of high-fat foods as well.
Sugar Guidelines
Besides cutting back on obvious forms of sugar such as soft drinks, baked goods, candy and other junk food, a few suggestions can help reduce your refined sugar intake. Before you reach for fat-free or low-fat versions of your favorite treats, check their labels for their sugar contents; reduced-fat items usually contain more sugar to enhance their taste. Choose fresh fruits over dried fruits as dried fruits contain more sugar, according to the Cleveland Clinic, and look for canned fruits packed in natural juices or water rather than heavy syrup. The Cleveland Clinic also recommends limiting your daily intake of sugar to no more than eight percent of your total calories if you suffer from high triglycerides.
When enjoying carbohydrates, choose whole grains over refined grains. Healthy choices include whole wheat, oatmeal, brown rice, millet, rye and barley.
Foods high in natural sugars include honey, molasses, fruit juices and starchy carbohydrates like potatoes, yams, beans, corn and peas. Since these foods offer health benefits, you do not need to eliminate them from your diet completely but you should keep your serving sizes small.
Fat Consumption
When it comes to fats, not all are created equal. Cut back on saturated sources like full-fat dairy and meat. Cutting back on these types of foods might normally lead you to eat more carbohydrates instead but you should avoid this tendency since carbohydrate consumption is the strongest influence on triglyceride levels. Because of this issue, the American Heart Association recommends including more healthy fats in your diet, including vegetable oils like olive and canola, nuts, seeds, avocados and omega-3 fatty acid-rich fish like salmon and tuna to serve as replacement for the calories you cut from reducing saturated fat intake.
Alcohol
Cut back on or eliminate your alcohol consumption. According to the American Heart Association, even small amounts of alcohol can raise triglyceride levels significantly. The National Institute on Alcohol Abuse and Alcoholism explains that alcohol consumption impairs the liver's ability to process fatty acids, leading to an increase in the amount of triglycerides. Talk to your doctor for guidance on an appropriate alcohol intake.
Exercise
Like other matters related to heart health, exercise appears to offer benefits for lowering triglyceride levels. A study appearing in the July 2008 issue of the American Journal of Clinical Nutrition had participants perform aerobic exercise one hour before consuming a high-fat meal. Compared to controls who only ate the meal, the exercising group experienced a 32 percent drop in triglyceride levels. Managing and reducing chronic health problems usually calls for at least 30 minutes of moderately intense exercise at least five days a week. If you need to lose weight, you might require more than this amount. Examples of moderately intense physical activity include walking at a pace that covers 2 to 3 miles an hour, riding a bike 5 miles in 30 minutes or performing 30 minutes of water aerobics.