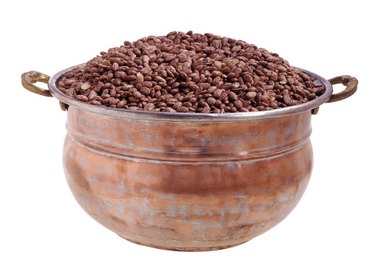 Beans are the faithful friend of frugal cooks the world over. Not only are they delicious, versatile and inexpensive, beans provide more protein per calorie than meat, with the added bonus of a healthy dose of fiber. When you're feeding a crowd, consider using pinto beans as the foundation for a Tex-Mex style salad bar or as the main ingredient for a hearty soup. Each pound of dry pinto beans makes 12 half-cup servings after being cooked, so 8.33 pounds will be required to make 100 servings. If you wish to have larger servings, make allowances by using more dried beans.
Cooking Pinto Beans
Step 1
Begin preparing beans at least 10 hours before serving for best results.
Step 2
Rinse and sort beans, removing any debris or discolored beans.
Step 3
Put beans in stock pot and cover with water. Set them aside to soak for about 8 hours.
Step 4
Drain beans and rinse once more before covering with fresh water. Add about twice as much water as beans to the stock pot.
Step 5
Bring water and beans to a boil, stirring occasionally to make sure they are not sticking.
Step 6
Reduce heat, cover and simmer beans for two to three hours or until they're tender. Stir occasionally to prevent sticking and add water as necessary, making sure that beans will not dry out.
Step 7
Add salt and other seasonings to taste and set beans out for serving or add to the recipe of your choice.
Things You'll Need
Stockpot (16 to 24 qt.)

8 to 9 lbs. dry pinto beans

salt

stove
Tip
You can eliminate the overnight soak with the quick-soak method listed on most dry bean packages. Rinse beans, add water and boil for 2 to 3 minutes before removing from heat and letting sit, covered, for 1 to 2 hours. Then rinse beans, add fresh water and begin cooking.
Warning
Don't add tomatoes, vinegar or other acid-containing ingredients to the beans until they are fully cooked or they will never become tender.