If you've decided that you must lose 50 pounds to reach your optimal weight, you've made a decision that can significantly improve your quality of life. By losing even less than 10 percent of your total body weight, you reduce your risk of weight-related health issues such as diabetes, stroke and colon cancer. Walking can help you lose 50 pounds, but the weight-loss journey might take nearly a year to accomplish.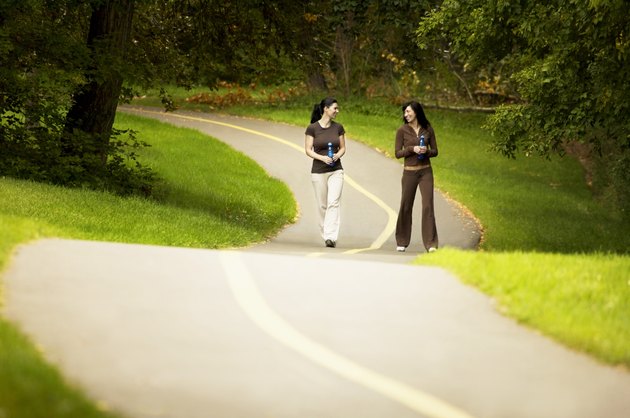 A Matter of Many Months
The exact amount of time needed to lose 50 pounds depends on your ability to reduce your caloric intake and how frequently you walk. A safe rate of weight loss, however, is between one and two pounds a week, which means it could take you 25 to 50 weeks to lose 50 pounds. Consuming fewer calories than your body burns is the key to weight loss; every extra 3,500 calories you burn results in the loss of one pound of fat. The Centers for Disease Control and Prevention recommend walking at least five hours a week if you wish to use this activity for weight loss. In a 60-minute walk at 3 mph, people who weigh 175, 225 and 275 pounds burn about 346, 445 and 544 calories, respectively. It's possible to increase your caloric burn by walking uphill, using wrist weights or performing intervals of a quicker pace.