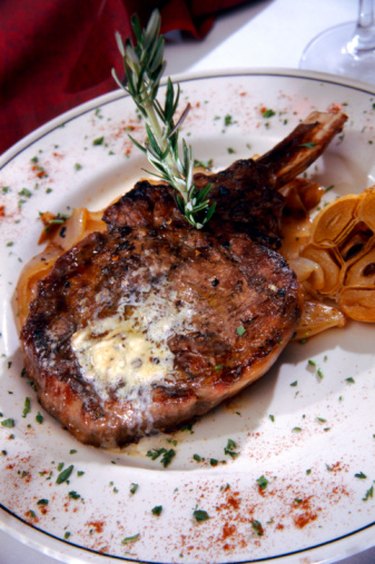 Ribeye steaks are a boneless rib cut of steak and are one of the most tender cuts of beef. There are many ways to cook ribeye steaks, including broiling them in the oven. Broiling your steaks is quicker than grilling them and requires less maintenance than cooking them in a skillet. This recipe provides an Italian marinade glaze, though there are many different combinations of spices that you can use to change the flavor of your steak.
Step 1
Chop the garlic, oregano, basil, parsley and rosemary into small pieces. Place them into a mortar, add the salt and proceed to mash them into a coarse paste using the pestle.
Step 2
Stir the olive oil, balsamic vinegar and white pepper into the garlic and herb paste. Mix until it is evenly blended. Spoon half of the mixture into a bowl and set it aside.
Step 3
Place three ribeye steaks into a broiler pan. Spread the remaining herb mixture evenly over one side of the steaks. Let the steaks sit aside and marinate for one hour.
Step 4
Set the oven to broil and turn it on. Let the oven preheat. Place the steaks so that their surface is 2 to 3 inches from the heat. Let cook for four to five minutes.
Step 5
Turn the steaks over using tongs to preserve the juices inside the steaks. Spread the remaining marinade mixture over the steaks evenly. Let the steaks cook for another four to five minutes.
Step 6
Remove the steaks from the oven, place them on plates and serve.
Things You'll Need
10 cloves garlic

1 tbsp. oregano

1 tbsp. basil

1 tbsp. parsley

1 tsp. rosemary

1 tbsp. salt

Mortar and pestle

1/2 cup olive oil

2 tbsp. balsamic vinegar

1 tsp. white pepper

Bowl

Broiling pan

Tongs
Tip
Cook steaks to an internal temperature of 145 degrees for medium-rare, or 160 degrees for well-done. Measure this by inserting an instant-read thermometer horizontally from the side of the steak to the center. Or make a small slit near the center of the steak and check the color of the meat. Medium rare is pink in the center with a slight browning towards the exterior. Medium is light pink in the center with a deeper browning towards the exterior.
Pat the raw steaks dry with a paper towel to promote browning.
Warning
Do not overcook steaks. This can reduce the taste and texture of the meat.