Eggs contain numerous vitamins and nutrients, including protein, vitamin B12 and vitamin D. Cooking eggs with butter or other saturated fats, however, minimizes those health benefits. Cooking eggs with olive oil is considered a healthy alternative to butter. Olive oil contains monounsaturated fat that may help lower total cholesterol, benefit insulin levels, normalize blood clotting and lower your risk of heart disease. In Mediterranean regions such as Italy and southern France, eggs are regularly cooked in olive oil.
Step 1
Crack the eggs into a bowl. Whip them with a fork or whisk until fluffy. This will produce light, fluffy scrambled eggs.
Step 2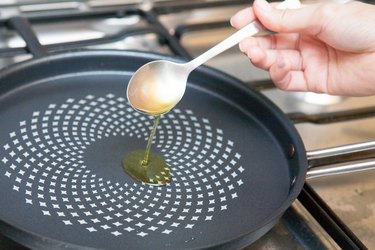 Put 1 tablespoon of olive oil into a non-stick skillet or frying pan. Heat on medium-low flame, allowing the oil to thinly coat the bottom of the pan. Do not allow the oil to start smoking.
Step 3
Pour the beaten eggs into the heated pan. Allow the eggs to set slightly, then stir gently with a wooden spoon until they reach the desired consistency. Add salt and pepper to taste.
Step 4
Remove the eggs from the pan with a spatula. Top with sprinkling of fresh chopped chives, if desired.
Things You'll Need
4 eggs

1 tablespoon extra-virgin olive oil

Salt and pepper to taste

1 tablespoon fresh chives (optional)

Spatula

Whisk or fork

Wooden spoon

Frying pan
Tip
As olive oil can impart a strong taste to the eggs, use a mild-tasting oil made from the most recently harvested olive crop, the Olive Oil Source website recommends.