Red snapper is a wise choice when grilling fish, especially if you have seafood enthusiasts as well as picky eaters to satisfy. Snapper's firm flesh and broad fillets enable you to use various seasoning and grilling techniques, which should pique the interest of fish fanatics. But red snapper also has a mild flavor, so diners who are wary of the dreaded "fishy" taste can also enjoy the dish. You can grill a whole red snapper or fillets, and your choice will dictate the techniques you use.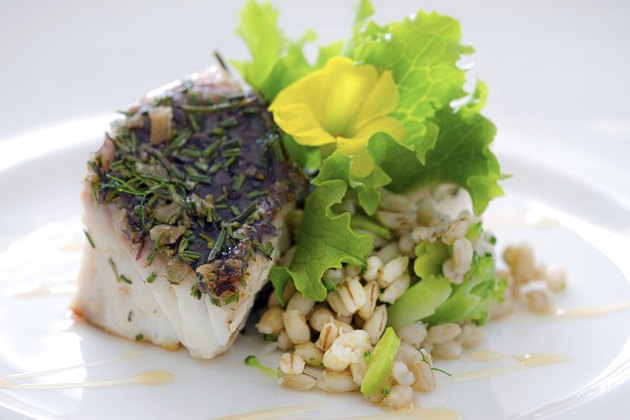 Grilling a Whole Fish
There are three basic "cuts" of red snapper that you can grill: the whole fish, fillets with skin and skinless fillets. People typically grill the whole fish for the sake of presentation. When grilling a whole snapper, the fish should be cleaned and scaled but not deboned. Most fish mongers and butchers who sell whole red snappers sell them in that condition.
Fillets With or Without Skin
When grilling fillets, you have a choice between skin-on and skinless portions. Each option has benefits and drawbacks. A fish fillet with skin is less likely to fall apart on the grill. You will, however, have to pull the skin off the cooked fillet when you serve it. A skinless fillet allows you to season both sides of the flesh but is more likely to break before or when you serve it. Remove the bones from snapper fillets before grilling them. Run your hand over the flesh -- the bones are near the surface and easy to feel. When you find a bone, pull it out with needle-nose pliers or tweezers.
Herbs, Spices and Marinade
You can season whole and filleted snapper with the same dry herbs and spices or marinade, though few people marinate whole fish. Many seasonings complement red snapper, including thyme, rosemary, oregano, parsley, cilantro and all pepper-based spices. Cooks often include some form of garlic -- cloves, minced or powdered. Cooking acids such as citrus juice, vinegar and wine cause raw fish flesh to toughen after several minutes of exposure. If you want to use an acidic ingredient, it is best to apply it immediately before you put the fish on the grill, or in a basting liquid while the fish cooks. If you do not marinate the fish, brush it lightly with olive oil to prevent it from sticking.
Preparing the Grill
Red snapper fillets cook quickly, so it is safe to cook them directly over the flame. If you cook the whole snapper, however, it is better to cook the fish slower using indirect heat to ensure it cooks through. To grill with indirect heat, you need to create heat zones. Preheat the entire grill to medium-high. Then, bank the coals to one side in a charcoal grill or turn off half the burners in a gas grill. The portion of the grill grate without a flame directly under it is the indirect heat zone, where you want to cook the fish. In a charcoal grill, you can sprinkle water-soaked wood chips over the preheated coals, if desired, to impart a smoky flavor to the fish. Brush the grate with olive oil to prevent sticking.
Bare Necessities
If you place the fish directly on the grill, handle it gently with a long, thin metal spatula. Even after you brush the red snapper and grill with oil, it can still stick to the grate. Keep olive oil and a basting brush on hand to lubricate the fish if it begins to stick. Keep the lid down so the heat distributes evenly.
Breakage Barriers
It is safer to cook the fish with some type of barrier between the grate and the flesh. The simplest barrier to use is a grilling basket, which is a metal tool that encloses the fish. The two hinged pieces of the basket resemble a grill grate, and it has a long handle by which you carry and flip it. A grilling basket is the best option when you're preparing a whole red snapper, because a whole fish would be difficult to handle with a spatula alone. Alternatively, you can wrap a whole snapper or fillets in parchment paper, aluminum foil or banana leaves. Secure banana leaves around snapper with toothpicks or short skewers.
Safety and Serving
Cook the snapper until its internal temperature is 145 degrees Fahrenheit to ensure it is safe to eat. The flesh should be pearly white and almost entirely opaque. It may be difficult to insert a meat thermometer in fish that you enclosed in a parchment or foil pouch. Avoid wrapping the fish with more material than necessary. It should be easy to peek in to so that you can assess doneness. If you grilled a whole fish, portion and lift the meat from the bones when you serve it. Exercise caution when eating the fish to ensure you don't ingest a bone. Adults should check red snapper for bones before serving it to children to make sure it is safe.