If you sometimes feel lightheaded, it may be a result of your diet and lifestyle, and you may be able to treat and prevent it by making some changes. However, if you frequently feel lightheaded regardless of what you do and cannot identify why, you should alert your doctor.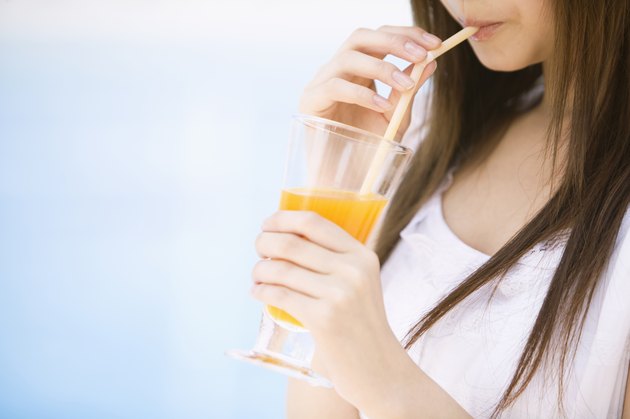 Causes of Lightheadedness
Identifiable causes of feeling lightheaded include skipping meals, low blood pressure, low blood sugar such as in diabetes, more exercise than usual, heavy menstrual bleeding or bleeding from another issue, smoking or using drugs, heavy deep breathing such as in hyperventilation, anxiety and stress, allergies, illness such as the flu, dehydration and issues leading to dehydration like vomiting and diarrhea. It's always good to check with your doctor because feeling lightheaded can be a symptom of a more serious underlying condition like abnormal heart rhythm or intestinal tract bleeding.
Low Blood Sugar
If you do not eat for hours, especially if you are on certain medications for diabetes, you may end up with low blood sugar, and feeling lightheaded is a symptom of this. In this case, eat a meal or snack that contains both carbohydrate and protein. Carbohydrate increases blood sugar, while protein supplies lasting energy. Carbohydrate affects blood sugar more than protein and fat do. Carbohydrate foods include fruits, vegetables and grains. Proteins are poultry, fish, meat, eggs, nuts and seeds. Legumes such as beans and lentils, as well as milk and milk products, contain both carbohydrate and protein. If you are taking diabetes medication and frequently feel lightheaded, alert your doctor, as you may need adjustments to your medication.
Carbohydrate- and Protein-Containing Snacks
Some snacks containing both protein and carbohydrate include fruit and nut granola bars, four large celery sticks with 2 tablespoons of natural peanut butter, one small fruit with 1/4 cup of raw almonds, or six crackers paired with either a hard-boiled egg or 1 ounce of low-fat cheese. You can also make a sandwich using two slices of whole-wheat bread, 2 to 3 ounces of lean chicken or turkey breast, lettuce and tomato. Eat one-half as a midmorning snack and the other half as an afternoon snack. If you feel so lightheaded that you think you might faint, or if you cannot eat something soon, have 1/2 cup of fruit juice or soda, or have a few candies -- read the label to determine how much will provide 15 grams of carbohydrate, which is one serving. These items quickly increase blood sugar. Repeat if you still have symptoms after 15 minutes.
Staying Hydrated
Another common cause of feeling lightheaded is dehydration. Your fluid needs depend on several factors including your age, gender, activity level and medications. The Institute of Medicine fluid guidelines recommend about 15 cups daily for a man and about 11 cups for a woman. This includes fluids from foods and liquids other than water. If you lose a large amount of fluid such as from diarrhea, vomiting or sweating, you may try a sports drink that contains water, sugar, electrolytes and possibly some protein. Always ask your doctor or dietitian about sports drinks first because some health conditions require fluid or nutrient restrictions.