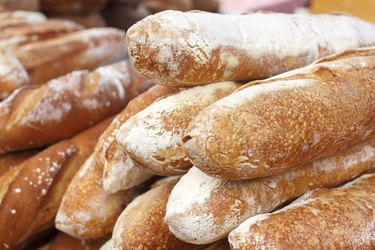 Foods in general should not cause body itching unless you have another medical condition, such as a food allergy, a pollen allergy or histamine intolerance. If you develop itching on your body after you eat certain foods, keep a written record of the foods that cause itching. Discuss your symptoms with your doctor to determine which condition is causing the itching on your body. Do not modify your diet without first talking with your doctor. If you have a food allergy, eating foods that cause itching may lead to further complications.
Food Allergy
Food allergies are the most common cause of body itching. A food allergy causes the body to create chemicals that cause inflammation, swelling, itching and redness in the skin. The most common foods that cause an allergic reaction in most people include wheat, milk, eggs, soy, fish, peanuts and tree nuts. Other common foods that can trigger an allergy are tomatoes, strawberries, pineapple, melon and food additives. Itching from food allergies can lead to hives, eczema and general skin irritation anywhere on the body. Antihistamines are most commonly used to treat an allergic reaction.
Oral Allergy Syndrome
Oral allergy syndrome causes itching in your mouth, throat and lips and is the result of cross-reactivity. Cross-reactivity occurs in the body when your immune system mistakes proteins in a certain food as if it is pollen. The most common foods that cause this syndrome are fruits, vegetables and nuts. For example, if you're allergic to ragweed pollen, eating zucchini, cantaloupe, melons, bananas and cucumber can cause itching to occur in your mouth. In some cases cooking the fruit, vegetable or nut will prevent itching symptoms from developing.
Histamine Intolerance
Histamine is a chemical in the body that prevents infection. Too much histamine will cause inflammation, itching and swelling in soft tissues, such as in the lungs, the skin and sinuses. Certain foods contain histamine and cause a sensitivity that leads to itching in the body. Red wine, tuna, mackerel, spinach, cheese, eggplant and yeast all contain histamine. Other symptoms may include headaches, skin flushing, a rapid heart rate, wheezing and fainting.
Treatment
The only effective way to treat food allergies and histamine intolerance is to identify which foods trigger the skin itching and avoid them. If you accidentally ingest a food that causes your skin to itch, use hydrocortisone cream to alleviate the itch and inflammation.
Is this an emergency? If you are experiencing serious medical symptoms, please see the National Library of Medicine's list of signs you need emergency medical attention or call 911.