When you encounter a substance to which you are allergic, your body releases histamines, which stimulate an immune response. As a side effect of the immune response, you'll get congested, start sneezing, experience a runny nose or develop hives. While these reactions to histamines are normal, some people experience overreactions that can be a hassle or even dangerous. For these people, antihistamines help limit the action of histamines, thereby alleviating the symptoms.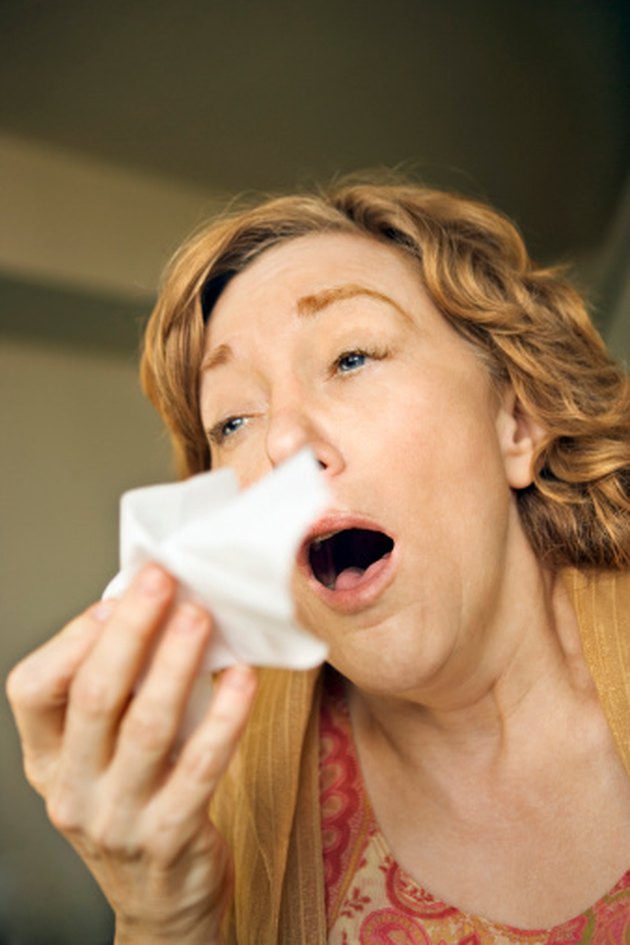 Function
For maximum effect, you should take antihistamines before the allergic reaction takes hold so they can block the histamines and prevent them from creating negative side effects. If you don't have time to take the antihistamines before the immune reaction kicks in, however, antihistamines still can alleviate the symptoms.
Combination Remedies
Antihistamines themselves don't pose a risk for people with high blood pressure. However, some cold remedies that contain antihistamines also contain a decongestant, such as phenylephrine or pseudoephedrine, which can have two effects on your body. First, antihistamines often cause drowsiness, while decongestants cause jitteriness, so, theoretically, the two medications counteract each other's side effects. The second effect is the opening of your airways to relieve congestion, which is a feeling of fullness that results from swollen, dilated and expanded blood vessels in the membranes of your air passages. Decongestants alleviate congestion by shrinking the blood vessels, which alleviates the feeling of pressure.
Expert Insight
The effects decongestants have on the circulatory system make them dangerous for anyone who has an irregular heart rhythm, heart disease, glaucoma or high blood pressure. People who have these or related conditions should not take decongestants. Antihistamines don't present a danger unless decongestants accompany them.
Considerations
If you have high blood pressure and you're not sure whether an antihistamine-containing product also contains a decongestant, don't take the medication unless your doctor approves. Other products to watch out for are nighttime sleep aids. Many of these use antihistamines for their narcotic effect. Some sleep aids also seek to remedy the effects of colds, so they might contain a decongestant. The safest approach is to ask your doctor which products are safe and effective considering your blood pressure problem.