If you have high cholesterol levels, you have an increased risk of developing a variety of cardiovascular problems. If your high cholesterol levels affect the arteries in your limbs, it can cause tingling and numbness in your extremities. If you experience these symptoms, talk to your doctor about how you can reduce your cholesterol levels.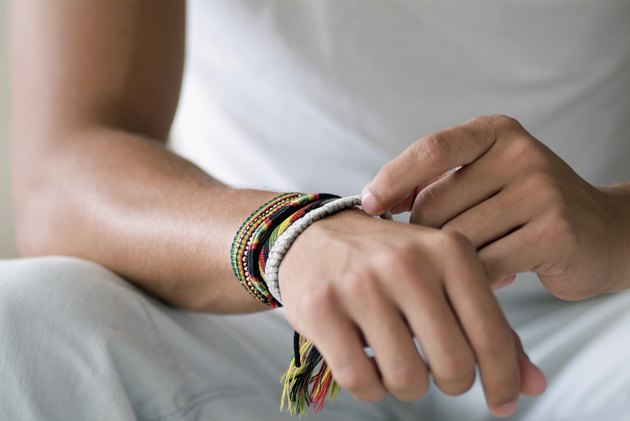 Cholesterol and Disease
Most of the cholesterol in your body is made by your liver and other tissues. However, animal-based foods such as red meat, egg yolks and whole milk also provide cholesterol for your body. Although your body needs cholesterol to make hormones, bile and cell membranes, too much cholesterol can be dangerous. Cholesterol can accumulate in the walls of your arteries, causing them to become narrow and stiff, resulting in an increased risk of cardiovascular problems such as peripheral artery disease.
Peripheral Artery Disease
Peripheral artery disease is a disease in which high cholesterol levels cause the arteries that supply blood to your limbs to become narrow. This can restrict blood flow to your tissues, resulting in inadequate blood flow to parts of your body, particularly your legs. Peripheral artery disease causes numbness and tingling and may also cause your arms and legs to become fatigued or cramp more easily. Other signs of peripheral artery disease include a weak pulse in your limbs, unusually cold limbs, poor wound healing and blue or pale skin.
Complications
Peripheral artery disease can cause a number of complications. One, known as critical limb ischemia, starts with poorly healing sores, wounds or some other injury. If limbs affected by peripheral artery disease become infected, the infection can spread and cause massive tissue damage, potentially requiring the affected parts of the body to be amputated. Peripheral artery disease also increases your risk of having a heart attack or stroke, particularly because it is a sign that your arteries are already becoming clogged.
Treatment
Peripheral artery disease can be treated with lifestyle changes, such as smoking cessation, a diet low in cholesterol and saturated fats, and increased exercise. Your doctor may also prescribe medications to help lower your cholesterol levels. Statins are effective at reducing your cholesterol levels and may also help clear your arteries. Other commonly prescribed medications for lowering cholesterol include niacin, bile acid sequestrants and fibrates. Your doctor may also prescribe medications to help prevent blood clots in your limbs. In severe cases, surgical treatments may be needed.