Use applesauce to replace the oil in a cake recipe and you'll reduce the amount of fat and calories in the finished product. It's actually possible to use any type of fruit puree, such as prune or pear, in place of the oil in a cake recipe, but applesauce, with its mild flavor, is the puree most commonly used in baking. If you haven't replaced oil in a cake with applesauce before, make a test run before a big event, such as a birthday, when you are going to rely on a perfectly baked cake.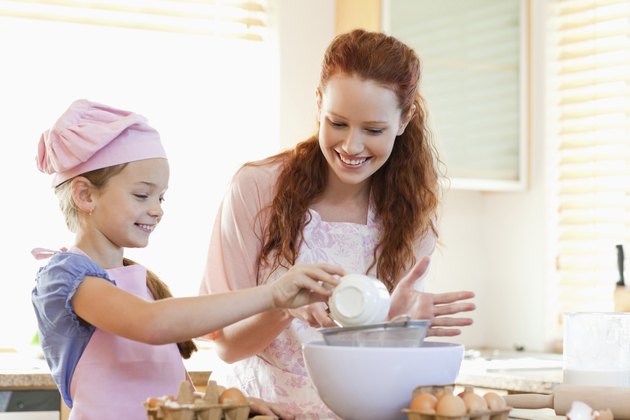 Step 1
Follow the recipe for your cake. Replace the oil with the same amount of applesauce. For instance, if the recipe calls for 1 cup of oil, use 1 cup of applesauce instead. Use unsweetened applesauce to replace the oil in a cake recipe to avoid adding too much extra sugar to the cake.
Step 2
Combine the dry ingredients and the liquid ingredients in separate bowls, then slowly mix the wet ingredients into the dry ingredients little by little to help the ingredients come together smoothly without any lumps.
Step 3
Add a bit more spices and seasoning to your cake than the original recipe calls for; replacing oil with applesauce can dull the other flavors in baked goods.
Step 4
Check the cake often as it bakes. Expect the cake to cook more quickly than normally when you have replaced some of the oil with applesauce. When the sides of the cake start to pull away from the pan, the cake is done.
Tips
Read the instructions on the box if you are using cake mix. See if the recipe includes alternate instructions for making a low-fat cake, which may offer tips replacing the oil with applesauce.
Make your own applesauce by steaming and pureeing fresh apples.
Warning
Keep an eye on the cake and remove it from the oven as soon as it looks done. Cakes baked with applesauce in place of oil tend to be drier than cakes made with more fat.
Do not use applesauce to replace butter in a cake, or the consistency of the cake will not turn out properly. Use a different recipe that calls for oil if you want to replace the fat with applesauce.