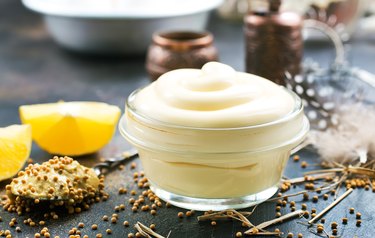 If you're one of the millions of people living with diabetes, experts agree that you don't necessarily need to hold the mayo. So, enjoy that BLT or ham sandwich with mayonnaise — but keep in mind these healthy swaps and tips if you're being mindful of calories.
Diabetes occurs when your body no longer produces the hormone insulin or becomes resistant to its effects. Insulin regulates blood sugar (or glucose) levels. High blood sugar levels over time may lead to heart disease, nerve damage and even blindness, according to the American Diabetes Association (ADA). What you eat plays an important role in keeping your blood sugar balanced, helping to keep complications at bay, per the ADA.
Mayonnaise is all fat and no carbs, and "it won't raise your blood sugar," says Dana Greene, RD, LDN, a registered dietitian in Brookline, Massachusetts. That's important, she says, because carbs such as breads, fruit and milk have the greatest effect on your blood glucose levels. "Carbohydrates are broken down into glucose after you eat," Greene says.
Leigh Tracy, RD, LDN, CDCES, coordinator of diabetes self-management in pregnancy at Sinai Hospital in Baltimore, Maryland agrees. "Monitor portions and aim for about 1 tablespoon or less per serving," she says. But, what about sugar in mayonnaise? "Sugar is listed as one of the later ingredients of mayonnaise, but it is not enough to be listed in the nutrition fact label," Tracy says.
Mayonnaise is a polyunsaturated fat — the type that's considered a "healthy" fat and should replace saturated fats in your diet, like what you get from red meat and butter, Greene says. Other sources of polyunsaturated fat include corn oil, safflower oil, soybean oil, sunflower oil and walnuts, according to the ADA.
However, there's a caveat when it comes to mayonnaise if you have diabetes, Greene adds. "Many people with diabetes also need to watch their calories to maintain a normal weight, and every tablespoon of mayonnaise has about 100 calories," she says.
For these reasons, the ADA suggests replacing regular mayonnaise with mustard, yogurt or a mix of yogurt and mayonnaise for fewer calories and more nutrients.
Swapping mayo for olive oil is linked with heart benefits. Replacing margarine, butter, mayonnaise or dairy fat with the equivalent amount of olive oil was associated with a 5 to 7 percent lower risk for heart disease in an April 2020 study in the ​Journal of the American College of Cardiology​.
Olive oil and other healthy monounsaturated fats may lower your low-density lipoprotein (LDL, the bad" cholesterol) levels when substituted for saturated or trans fats, and some research suggests that it may improve blood sugar control, too, according to the Mayo Clinic.
The Best Mayo for People With Diabetes
If you love mayo, consider buying healthier types, according to Ochsner Health, a Louisiana health care system. Its recommendations below each contain 35 to 50 calories per tablespoon, with less than 1 gram of sugar and 0 to 1 grams of saturated fat:
Another option would be to make your own mayo at home, giving you more control over the ingredients, according to the American Heart Association, which suggests this recipe:
Things You'll Need
1 large egg

1 large egg yolk

1 teaspoon Dijon mustard

juice of 1 lemon

1 cup canola or safflower oil (or 3/4 cup canola or safflower oil and 1/4 cup olive oil)

1/4 to 1/2 teaspoon ground black pepper
Mix the egg, egg yolk, mustard and lemon juice in a blender until smooth.
Slowly add the oil to the blender in a very thin stream, while blending.
Add black pepper to taste, or fresh garlic for a kick.
Refrigerate and use within 2 days.
Is this an emergency? If you are experiencing serious medical symptoms, please see the National Library of Medicine's list of signs you need emergency medical attention or call 911.