Whether you call them love handles or muffin top, no cute name hides the fact that it's excess body fat on the sides of your mid-section. Too much fat can increase your risk of diseases such as coronary heart disease, stroke, diabetes and even some types of cancer. Cardiovascular exercise, such as jogging, can help you get rid of love handles by burning calories. When you create a caloric deficit -- by burning more calories than you consume -- you lose body fat all over your body, including your love handles.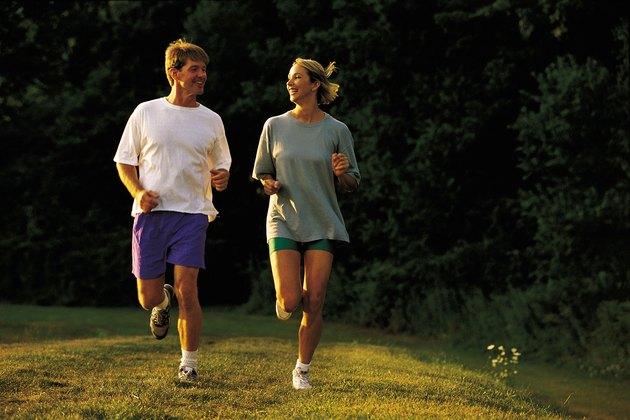 Benefits of Jogging
Jogging is a more leisurely form of running. It is still a high-impact activity, and it raises your heart and respiration rates to strengthen both your cardiovascular and pulmonary systems. During your jogging workout, you will raise your metabolism and burn calories. This increased calorie-burning effect can last up to 24 hours after your workout is over, so it is good for burning off your love handles.
Exercise Recommendations
To see the full benefit from jogging you need to do enough of it to make a difference on your body. For significant fat loss, the American College of Sports Medicine recommends cardiovascular exercise five to seven days each week for 30 to 60 minutes at a moderate to high intensity. Each pound of fat in your love handles represents 3500 calories that you will need to burn off. Slowly build up to jogging the recommended amounts each week to avoid injury and over-training, both of which can derail your progress.
Jogging Considerations
High-impact activities such as jogging and running cause increased stress to your ankles, knees, hips and spine. If you have orthopedic issues or are severely overweight, jogging may not be appropriate for you. Talk to your doctor before you start a jogging program to see if it would exacerbate any medical conditions. If you do start jogging, begin by walking and slowly add in short bursts of one to two minutes of jogging. Gradually increase the length of your jogging intervals.
Importance of Resistance Training
While you cannot spot reduce or choose where you lose body fat, adding resistance training to your weekly workouts can increase fat-burning and help tone your mid-section. Perform resistance training exercises two to three days per week on non-consecutive days. Choose at least one exercise per muscle group and perform one to three sets of eight to 12 repetitions. Your love handles lie over your oblique muscles. Train your abdominal area and obliques the same as you would other muscle groups to start. You can build up to training your mid-section every day since this area of your body is more resistant to fatigue.