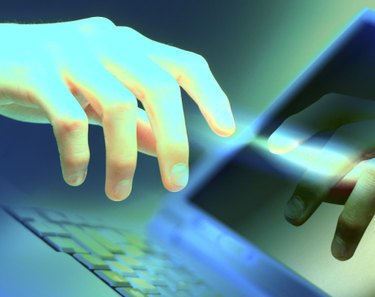 Peripheral neuropathy describes a neurological condition characterized by damage to the nerves in the peripheral nervous system. The peripheral nervous system includes the network of nerves that transmit information from the brain to the rest of the body. The main symptoms of peripheral neuropathy include numbness and tingling sensations, known as paresthesia, and muscle weakness. Many other medical conditions can mimic these symptoms, including low iron levels.
Iron Function
Your body needs iron to produce the protein known as hemoglobin. Hemoglobin binds to red blood cells, gives red blood cells their red color and carries the oxygen in the blood to the cells throughout the body. Cells need oxygen to function. Low iron levels mean the production of hemoglobin decreases. Without hemoglobin, red blood cells cannot function and oxygen levels drop, causing symptoms similar to peripheral neuropathy. An iron deficiency severe enough to cause symptoms is known as iron-deficiency anemia.
Symptoms
Iron-deficiency anemia causes a variety of symptoms that can range from mild to severe, depending on the extent of the deficiency. The symptoms occur due to the lack of oxygen in the blood. The main symptom of iron-deficiency anemia is fatigue. Other symptoms include shortness of breath, dizziness, headache and chest pain. Low iron levels can also cause numbness, tingling or feelings of coldness usually felt in the hands or feet. The lack of oxygen also causes muscle weakness. Although these two symptoms resemble those of peripheral neuropathy, iron-deficiency anemia does not result in permanent nerve damage and can be treated.
Diagnosis
Diagnosing peripheral neuropathy can be difficult especially because the symptoms may resemble the symptoms of many other types of medical conditions. To diagnose peripheral neuropathy, doctors perform a variety of tests, including computed tomography, magnetic resonance imaging, electromyography, nerve conduction velocity and nerve biopsy. To diagnose iron deficiency anemia, doctors need to perform blood tests such as hemoglobin and hematocrit tests to determine the number of red blood cells. A low hemoglobin and hematocrit confirms the presence of anemia. To determine the cause of the anemia, doctors perform a serum iron test, which should measure between 60 and 170 mcg/dl, and a serum ferritin test, which should measure between 12 and 300 nanograms/ml. Low levels of iron in the blood or iron stored in the body reveal the presence of iron-deficiency anemia.
Treatment
There is no cure for the inherited forms of peripheral neuropathy. Peripheral neuropathy related to other medical conditions, such as kidney disorders, infections and hormonal imbalances, can be treated by treating the underlying cause, as long as the nerves have not sustained permanent damage. The numbness and tingling associated with low iron levels disappear when the iron levels increase. In mild cases of iron deficiency, you may increase your intake of dietary iron, but because your body only absorbs between 2 and 35 percent of the available iron, this can be difficult, according to the National Institutes of Health Office of Dietary Supplements. Your doctor may recommend taking iron supplements. Because your body stores iron, however, taking iron supplements increases your risk for iron overload, which can cause nausea, vomiting, abdominal pain, lethargy, weak pulse, low blood pressure, difficulty breathing and in severe cases can lead to long-term central nervous system and liver damage.
Is this an emergency? If you are experiencing serious medical symptoms, please see the National Library of Medicine's list of signs you need emergency medical attention or call 911.