Your liver helps to perform digestion and toxin removal. Its condition can affect your health, states nutritional therapist Gale Maleskey in her text, "Nature's Medicines: The Definitive Guide to health Supplements." You can detoxify your liver and gallbladder with specific foods. A detoxification process occurs with certain foods, allowing toxins to leave your body. Before you begin a liver and gallbladder detoxification diet, talk to your doctor for advice.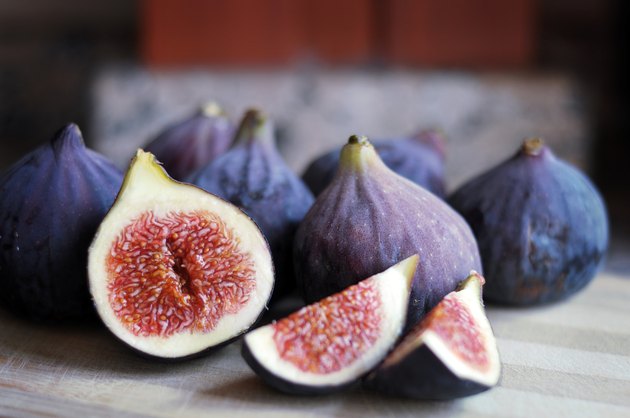 Organic Fruits
Begin your day with fresh fruit such as grapefruit, figs, cherries, apples, pears, papaya, kiwi and plums, suggests Laurel Dewey, a nutritional specialist, in her book, "Amazing Herbal Remedies." These organic fruits will help your body rid itself of toxins. The increased roughage in fresh fruit binds to toxins, causing a quick removal from your body. Your digestive system and metabolism speed up when you ingest fresh fruit. If you intend to lose weight, it will occur with this increase of fruit in your diet. The vitamin C found in fresh fruit increases the process of detoxifying your liver and gallbladder. Vitamin C and anti-toxins in fresh fruit also stimulate your liver enzymes.
Raw Fresh Vegetables
Eating uncooked fresh vegetables will increase your roughage intake, allowing an easy exit for toxins leaving your body, Maleskey advises. Soups with vegetables containing asparagus, broccoli, kale, brussels sprouts, spinach, garlic, cauliflower, onion, beets and artichoke also can help with toxin removal. Your kidneys will benefit from the increase of detoxifying vegetables in your diet. Your liver and gallbladder will undergo a natural cleansing by the addition of raw fresh vegetables in your meals. Many of these types of vegetables activate your liver's enzymes, promoting the exit of toxins from your body.
Avoid Junk Food
Junk foods contain few nutrients and cause fat to build up in your cells in the form of lipids, Maleskey reports. This fat stays if you continue to eat junk food high in calories. Avoid junk food while cleansing your gallbladder and liver. Foods and drinks to avoid include alcohol, soft drinks, potato chips and processed foods. You also will want to avoid juices and milk during the detoxifying cleanse.
Side Effects
You might experience side effects of nausea, abdominal cramping and vomiting when performing this dietary cleaning of your liver and gallbladder, Maleskey warns. If you experience a severity of these symptoms, stop the cleanse and report it to your doctor. Before starting any type of internal body cleansing, always obtain medical advice. This gallbladder and liver cleanse might have an affect on your current medications.