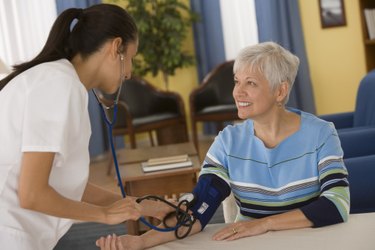 Blood pressure is defined as the pressure pushed against artery walls as a result of the heart pumping blood. High blood pressure occurs when the artery wall pressure rises above 120 systolic and 90 diastolic, which is measured in millimeters of mercury. The National Heart Lung and Blood Institute reports nearly one in three adults within American has high blood pressure. If gone unchecked, high blood pressure may damage the kidneys, blood vessels and the heart. Blood pressure is directly affected through dietary sources. Milk thistle, a common herb used for liver and gallbladder ailments, may have certain effects on blood pressure.
Milk Thistle Active Ingredients
While milk thistle contains several active compounds, the primary constituent providing this herb with its medicinal qualities is a flavonoid known as silymarin. This compound is actually comprised of three chemicals, known as silicristin, silibinin and silidianin. The University of Maryland Medical Center reports these compounds are responsible for enhancing liver cell reproduction, and protecting new liver cells from damage. This group of flavonoids is also known for their powerful antioxidant properties, which help protect the body from damage done by free radicals.
Blood Pressure and Milk Thistle
While no scientific evidence exists to determine the entire effect milk thistle has on blood pressure, it may be possible this herb may indirectly lower blood pressure. The National Diabetes Information Clearinghouse reports high blood sugar contributes to high blood pressure. One of the proposed uses of milk thistle is to lower blood sugar levels, which may ultimately cause a decrease in blood pressure. MayoClinic.com states animal and laboratory research found milk thistle may be capable of lowering high cholesterol levels; however, further research is necessary to determine its true effectiveness. If this is true, milk thistle may help lower blood pressure by eliminating excessive cholesterol within the arteries.
Dosage Recommendations
The University of Maryland Medical Center reports milk thistle is available in liquid extract, standardized dried extract in capsule form as well as a tincture. No matter how it is consumed, the recommended dosage ranges from 280 to 450 mg per day. It is important to consume a milk thistle supplement with a 70 to 80 percent silymarin concentration.
Warnings
As with many herbal supplements, milk thistle may cause adverse interactions when mixed with certain medications. The University of Maryland Medical Center states this herb should never be taken alongside antipsychotics, allergy medications, anti-anxiety drugs and high cholesterol medications. Prior to starting a supplementation routine with milk thistle, discuss the safety and dosage requirements with your physician.
Is this an emergency? If you are experiencing serious medical symptoms, please see the National Library of Medicine's list of signs you need emergency medical attention or call 911.