Looking for ways to substitute carbs in your diet without losing taste and that feeling of fullness? There are plenty of low-carb alternatives that will satisfy your hunger and will be healthier than refined carbs.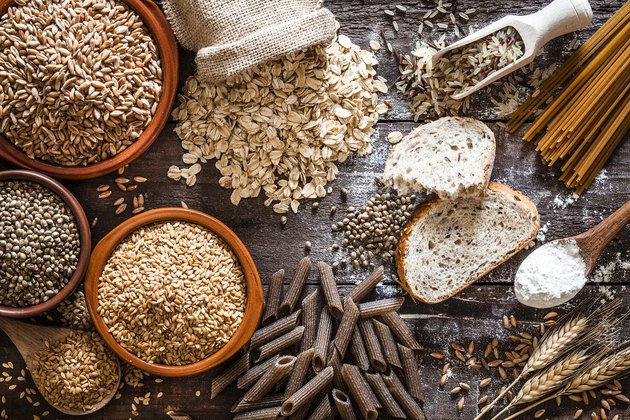 Tips
Paying more attention to the quality of carbs you eat, rather than the quantity, may help you in your quest to cut unhealthy carbs from your diet while keeping the healthy carbs.
Low-Carb Alternatives
One reason many people turn to low-carb alternatives is because of the popularity of the ketogenic, or keto, diet. This is a low-carb diet that emphasizes substituting carbs with fats, according to the Harvard T.H. Chan School of Public Health. This diet, introduced in the 19th century, has been used to treat epilepsy, and has also been tested on people with cancer, diabetes and Alzheimer's disease, among others.
Other popular low carb diets, according to the Mayo Clinic, are as follows:
Paleo, which emphasizes protein over carbohydrates.

Atkins and South Beach, which emphasize both protein and fat.
But don't try any of these diets unless you check with your doctor first to make sure it's the right diet for you. Low-carb diets may be lacking in necessary nutrients, Harvard Health Publishing says.
The best way to substitute carbs, according to Harvard Health, is to substitute natural, unprocessed foods containing carbs for heavily processed, high-carbohydrate foods. If you have diabetes, you should always check with your doctor before making changes to your diet.
The Need for Carbs
Adults should get 45 to 65 percent of their daily diet from carbs, according to the 2015-2020 Dietary Guidelines for Americans. If you're eating 1,800 calories a day, that's 203 to 293 grams of carbohydrates per day. Protein should make up 10 to 35 percent of your daily diet, while fat should total 20 to 35 percent.
Carbs from food provide your primary source of energy, which is glucose, Harvard Health says. That gives you the gas you need to move, think, talk and walk. The reason carbs get such a bad rap is more about what kinds of carbs you're eating.
If you're eating white bread, highly processed cookies and crackers, muffins and other sugary food, you're taking in carbs that don't come with a lot of nutrients, according to Harvard Health. Many of these foods, like cake, candy and soda, are considered "empty calories." These are refined carbohydrates.
Vasanti Malik, a research scientist in the Department of Nutrition at the Harvard T.H. Chan School of Public Health, says this about carbs in a June 2018 post in Harvard Health Publishing, "In short, carbohydrates in their natural packaging are an excellent choice for health, while refined carbs, which currently make up a large and growing part of the American diet, are not."
Good vs. Bad Carbs
Malik recommends substituting those refined carbs for nutrient-rich whole grains, legumes, nuts, fruit, vegetables and dairy. When you're looking for processed carb substitutes, look to use natural carbs instead, says Harvard Health Publishing:
Instead of white rice, eat whole grains like brown rice, barley, buckwheat or wheat berries.
Instead of pasta from white flour, eat whole grain pasta or whole wheat couscous.
Instead of cakes, cookies and other sweets, eat fruit, whether it's fresh, frozen or dried.
Instead of fruit flavored, sweetened yogurt, mix plain yogurt with fruit.
Instead of sweetened cereals, eat oatmeal, cooked with milk or soy milk and add fruit.
Instead of sugar-sweetened beverages, drink water, low-fat milk, unsweetened tea or coffee or seltzer water with 100 percent fruit juice.
Instead of fried potatoes, eat a baked sweet potato with the skin.
Instead of white bread, eat whole grain or whole wheat bread.
Instead of ice cream, eat frozen banana with cocoa powder.
If you're worried about your glucose level rising from eating these good carbs, the Mayo Clinic says that natural complex carbs digest more slowly than simple carbs, like those from sugar or other refined carbohydrates. Because they digest more slowly, they have less effect on blood sugar than simple carbohydrates. Carbs from natural sources also provide your body with much of the fiber it needs.
When you eat carbs, they cause your blood sugar to rise, which in turn tells the body to release insulin, the Mayo Clinic says. Glucose provides your cells with energy. If you have too much glucose, it's stored in the liver, muscles and other cells to be used when you need it. This is why athletes like to eat carbs before an endurance event. If that stored glucose isn't used, however, it's converted to fat.
A Low-Carb Diet
Many low-carb diets focus on proteins, like meat, eggs, fish and poultry, and non-starchy vegetables, says the Mayo Clinic. But Harvard Health says to be careful when you try to make carb replacements. When you reduce carbs, protein and saturated fat intake tend to rise, and you need to be careful when you increase saturated fats.
If your goal is to lose weight, low carb is better than low fat, according to a September 2014 study in the Annals of Internal Medicine.
The European Society of Cardiology, however, said in a study published in August 2018 that low-carb diets are unsafe and should be avoided. The study, which followed nearly 25,000 people, found higher risks of heart disease, stroke and cancer. One of the authors said that such diets may be useful in the short term to lose weight and lower blood pressure, but when followed long term, become risky.
If you are thinking of trying a low-carb diet, you should never undertake a weight loss program until you have consulted with your doctor. Low-carb diets don't always provide enough necessary nutrients, the Mayo Clinic said, which makes them risky for children and teens.
Substitute cauliflower florets for macaroni in mac and cheese. Wrap a burger or a taco in lettuce. Make veggie fries. Make pizza crust out of cauliflower. Use portobello mushrooms instead of a hamburger bun. All these will substitute healthier carbs for refined carbs.