Carbohydrates serve as a great source of fuel, so they can power your active lifestyle. Eating too many carbs though, especially in refined foods such as sugar and white bread, can cause wild shifts in your blood sugar levels. If you overeat carbohydrates habitually, you might notice negative effects on your energy, weight and health. Find delicious carb substitutes to help you lower your carb intake without missing out on the foods you love, which makes your diet more sustainable.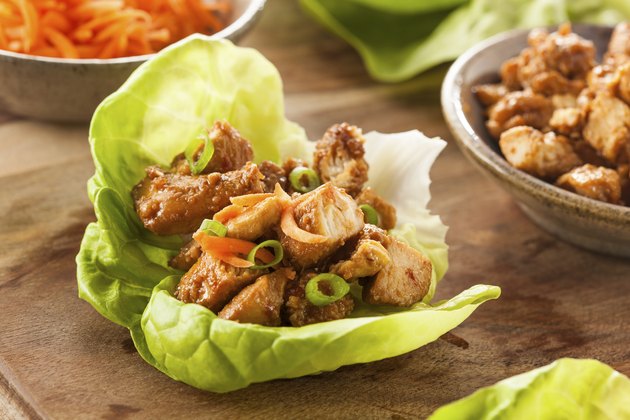 Why Substitute Carbs?
The Institute of Medicine recommends the average person consume between 45 and 60 percent of calories from carbohydrates. For a 2,000-calorie diet, this would mean 225 to 300 grams daily. A low-carb diet typically has you consume 50 to 150 grams of carbs per day, according to a 2007 issue of the American Journal of Clinical Nutrition.
A low-carb diet may be more effective for losing weight and improving cardiovascular health than a low-fat diet, found research published in a 2014 issue of the Annals of Internal Medicine. Diabetics control their carbohydrate intakes to manage blood sugar and insulin levels. Sticking to a certain number of carbs helps diabetics stay healthy longer, maximizes energy and feelings of well being, and prevents complications of the disease that include nerve damage and kidney disease.
Always consult with your doctor before limiting this macronutrient, whether you're looking to lose weight or control your diabetes. Too drastically decreasing the amount of carbs you eat can cause metabolic changes that may negatively affect your health and have adverse side effects, including constipation, fatigue, weakness and headache. Diabetics need to work with their doctor to find a target level of carbohydrates appropriate to manage their condition.
Low-Carb Substitutes for Bread
Bread is a major source of cabohydrates -- a slice of white bread contains 15 grams; a large bagel contains 69 grams; an 8-inch flour tortilla contains 25 grams. Wrap sandwich, burger or taco ingredients inside a large romaine leaf instead for an option with almost no carbohydrates. Large collard and cabbage leaves are other alternatives.
Pizza crust also comes loaded with carbs -- a slice of fast-food pizza, for example, contains 36 grams of carbohydrates. Use vegetables as the crust to save carbs. Spread sauce and cheese on top of slices of steamed eggplant or a portabella mushroom cap for a low-carb substitute. If you crave a more bread-like crust, make a cauliflower crust by mixing together steamed, mashed cauliflower, spices and egg. Form it into a patty; top with sauce and cheese, and bake it into a pizza-like creation.
Low-Carb Sides and Pasta Substitutes
Make alternatives to starchy sides, such as mashed potatoes with 36 grams of carbs per cup or pasta with 43 grams of carbs per cup. Mash steamed cauliflower, and season with a bit of butter, salt and pepper for a low-carb side that contains just 5 grams of carbs per cup. Use a vegetable peeler or special spiral cutter to create noodles of yellow or zucchini squash with only 5 grams of carbs per cup.
You can also save carbs by choosing watery, fibrous vegetables, such as broccoli, peppers and spinach, over starchy options, such as corn, peas and sweet potatoes.
Low-Carb Snack Ideas
Snack foods, including chips, pretzels, snack crackers and cereal bars, include numerous carbs. Don't skip snack time -- simply choose lower-carb snacks. For example, have an ounce of nuts with 6 grams of carbs instead of an ounce of chips with 16 grams. Spread peanut butter on celery, with just 2 grams of carbs per large stalk, for another nearly carb-free snack. Satisfy your need for a crunchy chip by making kale chips. Spritz whole leaves with cooking spray; top with salt, and roast in a low-heat oven until crispy for just 1.4 grams of carbs per cup.
Homemade low-carb crackers are easy to make with cheese, which is naturally low in carbohydrates. Pile small mounds of shredded Parmesan or cheddar on a cookie sheet lined with parchment paper. Broil until the cheese is melted and lightly browned.
Low-Carb Sweets and Drinks
Sometimes you just crave a sweet treat, but cookies, cakes, muffins, candy and even most fruits are loaded with carbs. Enjoy 1/2 cup of low-fat ricotta mixed with cinnamon and no-calorie sweetener -- with only 6 grams of carbs -- as a creamy low-carb alternative to ice cream, which has 24 grams of carbs per 1/2 cup. A whey protein shake made with berries and a little milk is a lower-carb alternative to a milkshake.
Watch out for carbs that you drink too. Juice, soda and energy drinks contain high amounts of sugar, which means a significant carb content. Drink sparkling water with lemon, plain coffee or iced herbal tea as low-carb replacements.