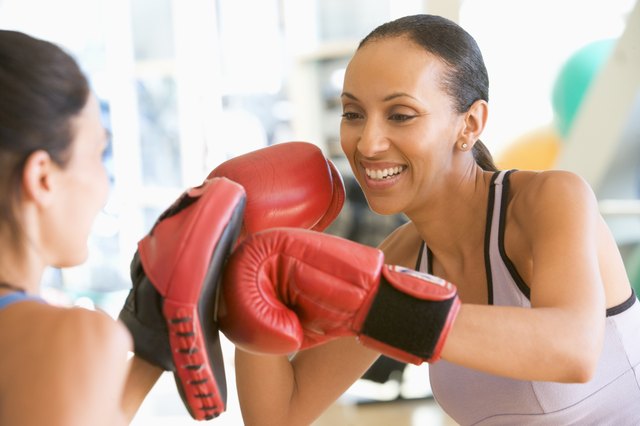 If you look at professional boxers, it seems reasonable that boxing will give you the cut, defined and impressive muscles the boys in the gym call "ripped." However, remember that professional boxers do a lot more about their fitness and physique than box. Their day includes several kinds of conditioning and strength-training.
Muscle Definition
Professional boxers undergo at least one strength-training workout each day when they're actively training. Examples include calisthenics such as pushups, working out with weights, punching a heavy bag and using a medicine ball. These workouts build strength and definition in the boxer's muscles. The repetition in throwing countless punches during training drills is also an effective way to build your muscles.
Cardiovascular Training
It's said that boxing matches are won on the road, not in the ring. The extent to which a boxer is in good cardiovascular condition is the extent to which he will be successful in his fights. Active boxers spend hours every week working on their cardio via jogging and boxing-specific drills such as jumping rope, shadow boxing, hitting the speed bag and maintaining a quick pace while hitting the heavy bag. This builds cardiovascular endurance, but also helps burn fat. As the fat fades, the muscles beneath it become more visible and clearly defined.
Diet and Nutrition
In a fight between two boxers of equal skill, the larger boxer is at a significant advantage. For this reason, boxing competition is divided into weight classes. Boxers observe a careful diet to stay within their weight class, and to fuel maximum physical ability. This diet cuts down on body fat and improves their ability to add muscle when appropriate. Both of these actions are part of the process of getting ripped.
Getting Ripped
Becoming a professional, or highly active amateur boxer is likely to get you ripped. However, most of the workouts in a boxer's schedule that get him ripped are workouts you can do without ever setting foot in the ring. Furthermore, attending a weekly boxing class at the gym won't give you enough of the training that leads to muscle development. In short, the right combination of exercises gets you ripped. If boxing motivates you to get that combination, then it can help you do so.