Leg lifts and side bends will do little to diminish the stubborn fat padding your thighs and love handles, as targeted exercise — also known as spot-training — doesn't burn fat.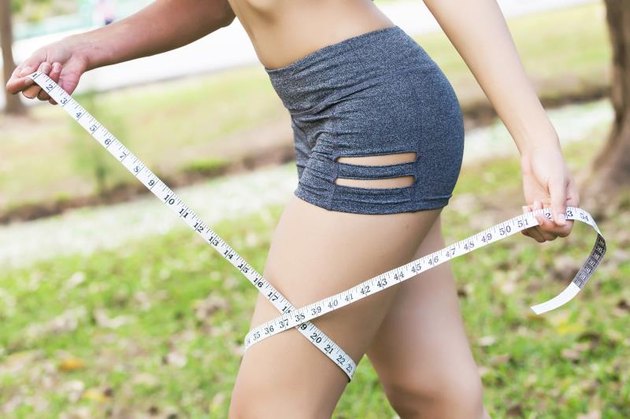 Although these exercises do build muscle, you need to generate a significant caloric burn through intense cardio workouts and comprehensive strength-training to whittle away the fat. Couple this with a healthy diet to see overall changes in your body's physique, including around your love handles and thighs.
The Goal: Fat Loss
When you lose weight, aim to lose fat rather than muscle. Fat is what expands your thighs and pours over your waistband as squeezable love handles. How and where you store fat is largely a matter of genetics and hormones— in other words, you can't direct where you gain fat, nor from where you lose it.
Therefore, it's necessary to follow a plan that helps your whole body slim down, which will result in svelter thighs and torso.
The thighs and waist are common fat storage depots. Usually, the fat stored there is subcutaneous, which means it lies just under the skin and, if it's not to the point of making you overweight or obese, doesn't usually pose a notable health problem.
However, it can make you self-conscious in a swimsuit or snug-fitting attire. Fat held in these areas can be stubborn, but will eventually budge when you combine the right types of exercise with a portion-controlled, whole-food diet.
Creating a Caloric Deficit
To slim down, including at your thighs and waist, you must eat fewer calories than you burn. One way to help create such a deficit is to eat fewer calories and focus on healthy, unprocessed foods such as lean proteins, fresh produce and whole grains.
But, you can only cut so many calories without feeling deprived, slowing down your metabolism and becoming nutritionally deficient. A man needs at least 1,800 calories per day and a woman 1,200.
To create a larger deficit, perform calorie-burning activity daily. The American College of Sports Medicine advises at least 250 minutes of moderate-intensity cardio per week to bring about significant weight loss. Brisk walking, singles tennis and cycling around 10 mph constitutes moderate-intensity cardio.
For more impressive fat loss, add high-intensity intervals to several of these moderate-intensity workouts per week. A 2008 study published in The International Journal of Obesity found that women who incorporate intervals into their routine three times a week had significant reduction of total body fat, including subcutaneous leg and trunk fat. Some ways you can add this training, commonly referred to as HIIT, are:
Alternate sprinting for 30 to 60 seconds with jogging or walking for one to two minutes.
Cycle for 60 seconds at a higher resistance, and then recover for one to two minutes at a lower resistance.

Engage in no-equipment intervals by doing 60 seconds of vigorous-intensity cardio, such as burpees and mountain climbers, with 30 seconds of rest time between each month.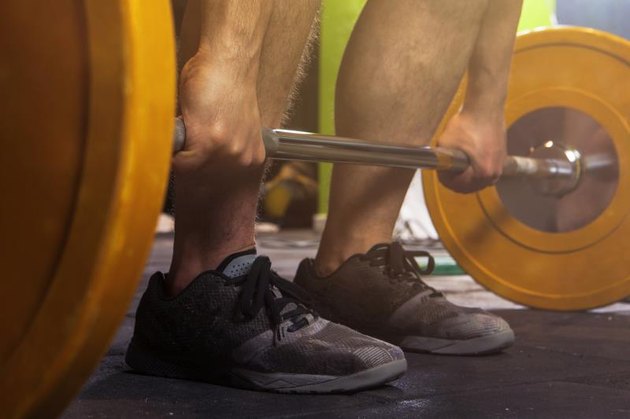 Add Strength Training
Strength-training exercises that target the thighs and love handles are some of the moves you should include in a comprehensive workout, but they're not the only ones. A program that targets all the major muscles, which also include the chest, back, arms, shoulders and hips, will give you balanced strength and promote fat loss.
A total-body strength training routine helps you change your physique so that you have a greater proportion of muscle. Muscle burns more calories at rest than fat, so this addition results in a higher metabolism — and your body becomes a more efficient fat-burning machine.
Do one to three sets of eight to 12 repetitions of these moves two to three times per week on non-consecutive days. Or, perform the moves as a circuit in quick succession, alternating upper and lower body moves, with rest only to change equipment.
When to Expect Results
Results from cardio and strength training takes time. A safe rate of loss is about 1 to 2 pounds per week, and not all of that weight will come from your trouble zones. This weight loss will slim down your love handles and thighs, but it may take several weeks to notice the change. However, this gradual loss and a long-term commitment to exercise will also keep weight from returning once you achieve your goal.