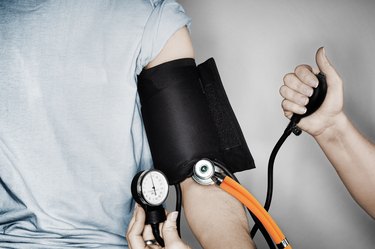 Most people know to limit sodium. But, despite that knowledge, the average American takes in 3,400 milligrams daily (well over the recommended max), according to the American Heart Association (AHA) — and that can cause high blood pressure, leading to heart attacks and strokes.
While the 2020-2025 ‌Dietary Guidelines for Americans‌ set the daily sodium max at no more than 2,300 milligrams daily, the AHA recommends a maximum intake of 1,500 milligrams a day for optimal cardiovascular health. According to the Centers for Disease Control and Prevention, combining a reduced sodium intake with a higher potassium intake is best for controlling high blood pressure.
Some research, though, has questioned the link between sodium and high blood pressure. One such study, published in July 2016 in the ‌Lancet‌, found high sodium intake was linked to an increased risk for cardiovascular events and death, compared with moderate sodium intake — but only in those with pre-existing high blood pressure — while low sodium intake correlated with higher risk for heart disease and death in people who had high blood pressure as well as in those who did not.
However, the complication is that it's not just about sodium: The level of other minerals in the body may come into play when gauging the health effects of sodium levels.
Sodium With Other Minerals
October 2018 research in the ‌FASEB Journal‌ analyzed the long-term consequence of sodium on blood pressure, based on 16 years of data. It concluded that lower sodium consumption on its own does not lower blood pressure. The study determined that the lowest systolic and diastolic blood pressure levels were found in people with higher consumption of both sodium and potassium, while those with the highest blood pressure levels had lower intakes of both. The study additionally revealed that calcium and magnesium combined had a favorable effect on blood pressure.
Essentially, "all the evidence shows that, for healthy blood pressure, it's not just sodium that should be the focus — but potassium, calcium and magnesium, too," says Vandana Sheth, RDN, CDCES, a registered dietitian-nutritionist and certified diabetes care and education specialist based in Torrance, California. "Most Americans don't eat enough potassium in particular, and, in combination with a high-salt diet, this is a problem."
According to the Office of Dietary Supplements, optimal potassium intake varies by age, and for those older than 19, the adequate daily intake is 3,400 milligrams for people assigned male at birth and 2,600 milligrams for those assigned female at birth.
Good sources of potassium include a range of foods, from fruits and vegetables to some legumes, nuts and more. For example, a large banana has 487 milligrams of potassium, a cup of canned white beans has 929 milligrams and a large sweet potato has 1,100 milligrams, according to the USDA.
Low-Sodium Health Problems
A normal sodium level sits between 135 and 145 milliequivalents per liter (mEq/L), according to the Mayo Clinic.
It is possible to have abnormally — or even dangerously — low sodium, called hyponatremia (below 135 mEq/L), but this isn't caused by a low-sodium diet, per the Mayo Clinic. Instead, possible causes include problems with the heart, kidneys and liver; medications; dehydration; hormonal changes; and use of the recreational drug ecstasy.
High blood pressure isn't an expected symptom of low sodium, either. The most likely symptoms are nausea and vomiting, headache, confusion, restlessness and drowsiness, as well as muscle cramps and seizures — not to mention coma and even death in acute hyponatremia (when sodium drops rapidly), according to the Mayo Clinic.
Low sodium levels and dangerously high blood pressure can exist together at the same time in a condition called hyponatremic hypertensive syndrome, which is a complication of having narrowed arteries to the kidneys, according to a September 2016 case study in the ‌[Journal of Hypertension](https://journals.lww.com/jhypertension/Abstract/2016/09002/_PP_23_21__THE_HYPONATREMIC_HYPERTENSIVE_SYNDROME.767.aspx)_‌. However, it's important to note this is a rare medical condition and something quite different from saying low sodium causes high blood pressure.
The bottom line: Most people have more than enough sodium and need to be thinking about trying to get less as part of an overall healthy diet — not more.
Is this an emergency? If you are experiencing serious medical symptoms, please see the National Library of Medicine's list of signs you need emergency medical attention or call 911.