Balance and coordination skills are necessary for everyday tasks. Good balance skills require control of many muscles to carry out activities without falling over. Coordination skills include eye-hand coordination, bilateral coordination and smooth, controlled movements of the body.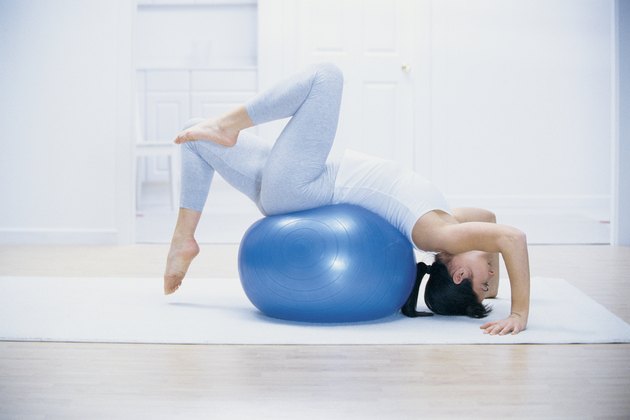 Simple One-Leg Balancing
Lift one knee up until your hip is bent at a 90-degree angle. Hold it there for as long as possible. Time how long you can keep your balance. Take care not to let your legs touch each other. If you prefer, hold onto the back of a chair while you lift your leg and then remove your hand slowly to see how long you can hold the position.
Complex One-Leg Balancing
This exercise is the same as the simple one-leg balancing example except you do this exercise standing on a soft surface, such as a pillow. Try balancing with your eyes closed, with or without the unstable surface. You could also try reaching out for nearby objects while keeping your balance.
Balancing on Hands and Knees
Go down on hands and knees on a gym mat or folded blanket. Stretch one hand out in front of you and stretch the opposite leg out in the air behind you. Keep your core muscles contracted to help you balance. Now repeat on the other side.
Twist Jumps
Starting from a standing position, jump in place and turn 90 degrees to land neatly without losing your balance. Increase the degree of turning to 180 degrees or 360 degrees without losing your balance on landing.
Balance Beam Exercises
A low balance beam can be made out of a row of bricks or a sturdy plank laid between two bricks. Start by walking forward and backward along the beam. Increase the demands by balancing a beanbag on your head as you do so or by bending to pick up objects as you walk.
Obstacle Course
Set up an obstacle course that has a balance beam, a stretch of space for running and markers for changing direction. Include a space for a forward roll or somersault. Time yourself as you complete the obstacle course and try to improve your time without losing your balance. Do the obstacle course from a different direction to add interest.
Hopscotch
Draw a hopscotch grid on the ground, making it as long or as complex as you wish. Try different combinations of jumping and hopping through the various squares without touching any of the lines. Toss a beanbag into a square or two and avoid those squares as you jump.
Ball Exercises A
Simple toss-catch games can become more challenging if your feet have to remain within a certain space. Try standing on a pillow to throw a ball in the air or against the wall and then catch it again without moving off the pillow.
Ball Exercises B
Sit on an exercise ball on an exercise mat and put your arms out to the side for balance. Gently lift one foot off the ground while keeping your balance. Lower and repeat with the other foot.
Heel-To-Toe Exercises
Walk heel-to-toe along a line marked on the ground or along a stretch of rope. Keeping your feet in the heel-to-toe position, catch a ball thrown to you by a friend, or toss a ball against a wall and catch it again. Bending the knees may help to keep your balance as you catch the ball. Also try lifting one foot to stretch out and pick up objects to the side and then return to the heel-to-toe position.