If your "trouble spots" are your lower stomach and inner thighs, you're in good company; most women store excess fat in their lower body, so flat lower abs and trim thighs are often a challenge. Unfortunately, you can't lose fat from only specific areas of your body. However, lowering your body fat levels will help reduce the amount of fat on your lower stomach and inner thighs, and targeted strength training can help you tone these areas.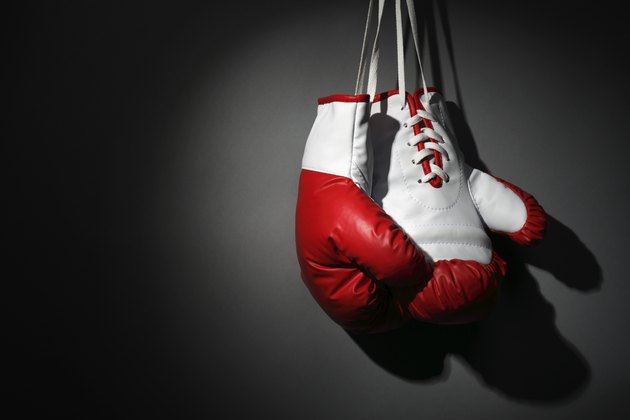 Create a Calorie Deficit to Lose Fat
Losing any kind of body fat -- including excess fat on your lower stomach and inner thighs -- requires creating a calorie deficit. That means creating a gap between how many calories you eat and how many calories you burn, so your body starts breaking down your stored fat for energy. Reduce your calorie intake to 500 to 1,000 calories less than you burn, which will allow you to lose weight at a safe rate of 1 to 2 pounds each week. While this slower rate of fat burning means your weight loss journey might take longer than you'd like, it increases your chances of staying at your goal weight once you get there.
An online calculator -- or a consultation with a nutrition professional -- can let you know how many calories you burn daily, based on your age, body size, gender and physical activity level. For example, a 32-year old woman, who is 5 feet 3 inches tall, 145 pounds and lives a sedentary lifestyle burns 1,910 calories daily. By cutting her intake to 1,410 calories daily, she would lose 1 pound a week.
While you'll need to cut calories to lose weight, don't cut too much -- you'll slow down your metabolism, as well as increase your risk of nutrient deficiencies. The recommended minimum intakes for women and men are 1,200 and 1,800 calories daily, respectively.
Avoid Fattening Foods
Losing lower stomach and inner thigh fat doesn't mean you need to deprive yourself of all your favorite foods, but you should limit ones that are strongly linked to weight gain. The top food to avoid -- potatoes -- in any form, according to research published in the New England Journal of Medicine in 2011. That includes the obvious culprits -- potato chips, fried hash browns, french fries -- along with healthier-seeming options like baked potatoes. Steer clear of processed meats, red meat and sugary beverages, which includes sodas, fruity cocktails and other sugar-sweetened drinks, such as lemonade.
Opt for healthier options to get a trimmer stomach and thighs. Try a sweet potato instead of a regular potato or mashed turnips instead of mashed potatoes. Opt for sliced grilled turkey, chicken or fish instead of processed meat, and drink water -- steeped with sliced fruit or chopped herbs for flavor -- instead of sugary drinks.
Focus on Low-Cal Foods and Lean Protein
Most of your diet should come from healthy foods. Wholesome, unprocessed foods tend to be lower in calories than processed, fatty fare, so you can eat more but still stay within your calorie budget. And you'll get nutrients you need to feel alert and healthy, instead of weak, drained and hungry.
Focus on healthy carbohydrates, like the ones found in whole grains, vegetables and fruits. Carbs serve as an important source of energy for your brain, so they can help you feel alert, and they also power your muscles through the tough workouts you'll need to tone your abs and thighs. Eat lean proteins, like poultry, eggs, beans, fish and nonfat dairy, to nourish your muscle tissue and help you feel full. Monitor your portion sizes and avoid cooking methods that rely on the use of fat, like frying. Instead, get your fat from moderate portions of healthy foods, like an ounce of nuts, a tablespoon of ground flaxseed, one-eighth of an avocado or a 3-ounce portion of salmon.
Work Your Lower Stomach and Inner Thighs
Include cardio and strength training workouts to slim down and tone your stomach and thighs. Cardiovascular exercise burns calories, so it helps reduce the layer of fat covering your muscles. Certain types of cardio -- like boxing, boot camp-style classes, swimming and skating -- also work the muscles in your midsection, so they can help tone your lower abs as you shed pounds.
Tone your inner thighs with a mixture of compound exercises -- big movements that work several muscles at once -- with specific moves targeting your inner thighs. Side lunges, sumo squats and deadlifts and plie squats all effectively target your inner thighs will also toning your outer thighs, hips, butt and calves.
Do inner thigh lifts to tone your inner thighs, and perform glute bridges holding a medicine ball or pillow between your knees to engage your inner thighs. Modify Pilates exercises -- like the 100 and the double-leg stretch -- by placing a pillow, medicine ball or exercise ball between your feet to strengthen your lower abs and inner thighs at the same time.