Many dieters who have pear-shaped frames are genetically predisposed to accumulate excess fat around the hips and thighs. This affects more women than men. Excess fat deposits on your legs can be concealed during cooler weather, but once temperatures rise, they're difficult to hide. It's a time for shorts, skirts, dresses and bathing suits, so you want to shed that thigh fat as quickly as possible. Targeted resistance and cardio exercises combined with a clean diet can help you lose extra leg weight.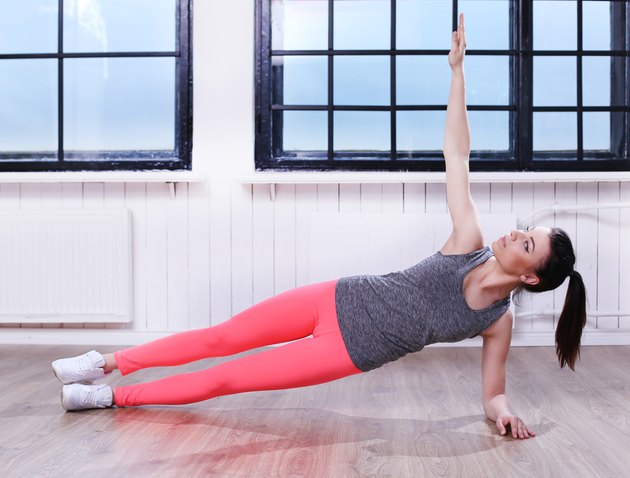 Step 1
Burn fat with a cardio exercise regimen. This is a staple for those who wish to lose body fat. Exercises such as stair-climbing, swimming, walking and jogging are some of the best. Aim for working out at least 60 to 90 minutes four or five days a week for optimum fat loss results, including on your thighs.
Step 2
Engage in interval training a minimum of at least two of those cardio sessions a week. Take any of your favorite cardio exercises, increase the intensity, then follow with an immediate decrease in intensity for one or three minutes at a time. Run for two minutes and walk for one, or swim for two minutes and recover for two minutes. Aim for at least 30 minutes of interval training per session.
Step 3
Tone your leg muscles with targeted strength training. Use lunges, plie squats, leg lifts, squat jumps and sumo squats to firm up your thighs. This won't directly burn off fat the way cardio does, but lean muscle mass improves the appearance of your thighs and helps you burn more calories, even when you are not working out. Engage in at least two or three full-body resistance training programs per week.
Step 4
Avoid eating foods that contribute to fat accumulation. Fat- and sugar-laden items like cupcakes, donuts, hot dogs, chips, burgers and buffalo wings are rife with calories and should be eliminated if you want to see thigh fat loss. Replace with low-fat dairy, lean proteins, fruits and vegetables.