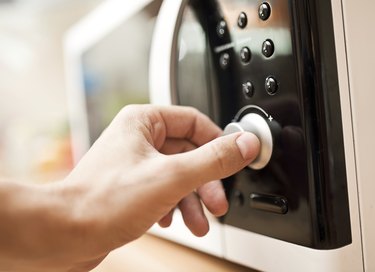 Processed cheese products such as Cheez Whiz contain stabilizers that help maintain the soft shape. One 33 g serving of the spread has 90 calories, 80 of which come from fat, according to Kraft Foods. Cheez Whiz is a sauce, which makes the heating process relatively straightforward. You have at least two options for warming -- the microwave or stovetop. One the sauce becomes pourable, it will work well for hot foods such as nachos or Philly cheese steak sandwiches.
Microwave
Step 1
Scoop the sauce out of the jar into a microwave safe bowl.
Step 2
Place the bowl into the microwave. Cover it with a paper towel to prevent splatter.
Step 3
Heat the Cheez Whiz on high for 30 seconds. Stir the sauce and heat a second time. Continue this process until it is hot enough, then use it as directed in the recipe. You will be able to pour it after 2 to 3 minutes of heating.
Stovetop
Step 1
Transfer the Cheez Whiz from the jar to a sauce pan.
Step 3
Stir the sauce continually until it becomes pourable, then follow the directions on the recipe to complete the dish.
Things You'll Need
Microwave safe bowl

Paper towel

Sauce pan
Tip
Mix one jar of Cheez Whiz with 1 cup of sour cream to make a dip.
Warning
Kraft does not recommend heating the sauce in the jar.