Red kidney beans, a common addition to bean chili and other dishes, is a nutritious vegetable, full of protein, carbohydrates, vitamins and minerals. Despite this, there are health risks associated with eating them. Understanding those risks can help you incorporate kidney beans into your diet appropriately without harming your health.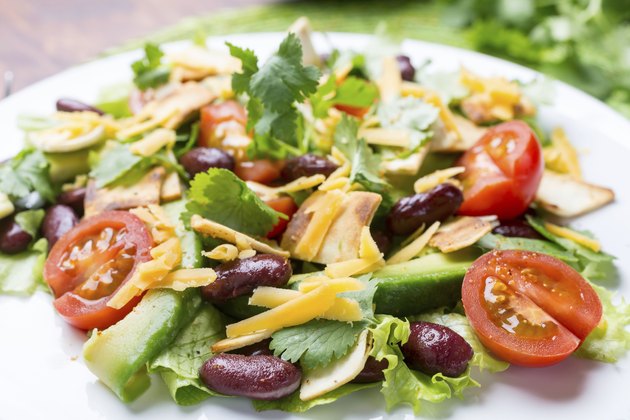 Hemagglutinin Poisoning
Red kidney beans contain a compound known as hemagglutinin, which is an antibody that causes red blood cells to clump. When ingested in high amounts, the hemagglutinins in these beans may trigger diarrhea, abdominal pain, nausea and vomiting. This substance is inactivated when beans are cooked, so the only danger lies in eating raw beans. When consuming red kidney beans, ensure that beans are properly prepared.
Digestive and Bowel Problems
You need 25 g to 38 g of fiber each day for the best health, although your needs decrease as you get older. A 1-cup serving of red kidney beans contains 13.1 g of fiber. If you eat a large amount of red kidney beans or eat a normal serving in a diet already high in fiber, this may cause problems with your digestion and bowel health. These problems include gas, abdominal pain, diarrhea and blocked intestines.
Cancer Risk
The folate in red kidney beans -- each 1-cup serving provides 230 mcg of this vitamin -- is generally thought of as beneficial; it may help decrease some birth defects. Getting too much folate may cause health problems, though. You need 400 mcg of folate each day. A study published in a 2009 issue of "The Journal of American Medical Association" indicates that study participants with heart disease who took 0.8 mg of folate each day along with other vitamins demonstrated a higher risk for cancer.
Organ Damage
Including red kidney beans in your diet provides you with iron -- 5.2 mg per cup, which helps meet your daily needs of 8 to 18 mg each day. However, too much iron can be dangerous, so carefully monitor your diet to make sure the kidney beans you consume do not introduce an excess of iron into your diet. Iron overload may trigger heart and brain damage that may result in strokes or heart attacks.