Trisodium phosphate is commonly used as a food additive. It also functions as a degreasing agent, a stain remover and a general cleaning agent. Also known by the names TSP, E339, trisodium orthophosphate or sodium phosphate, trisodium phosphate is no longer used in consumer soaps and detergents because of ecological concerns. While it's not bad for you in small doses, the dry powdered form of trisodium phosphate is an irritant and should be handled with care. Consult your doctor if you have any concerns about food additives or supplements in your diet.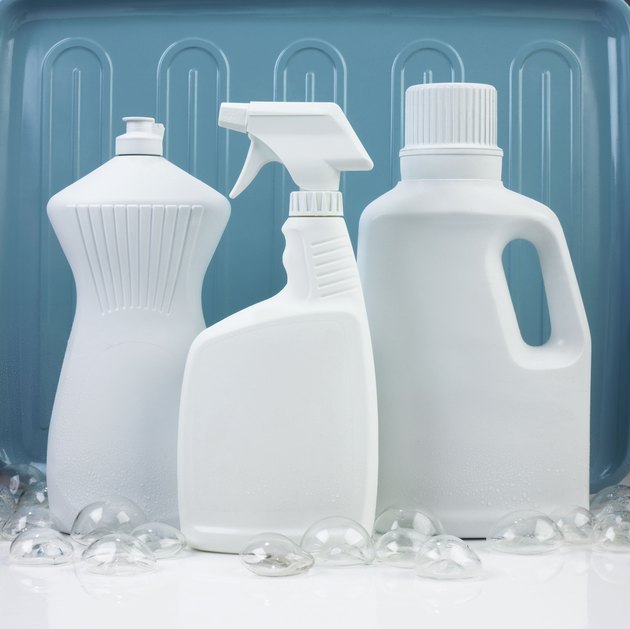 Food Additive
Trisodium phosphate is an approved food additive in the U.S., European Union and other countries of the world. The primary function of trisodium phosphate is acidity regulation. It is commonly present in dry, extruded cereals. Together with other phosphates, it modifies cereal color, aids the cereal's flow through the extruder and provides phosphorus fortification. Trisodium phosphate is also commonly present in cheese sauces as an emulsifier.
Exercise Supplement
Trisodium phosphate is sometimes taken as a nutritional supplement with the aim of improving performance during exercise and sport. Loading your body with trisodium phosphate can potentially reduce lactic acid buildup in your muscles and increase your power output and maximum oxygen uptake. A 2007 study reported in the "Journal of Science and Medicine in Sport" indicates that trained cyclists performed better in a 16.1-km time trial after loading with trisodium phosphate, indicating that it might offer benefits for athletic performance.
Side Effects
Trisodium phosphate is not recognized as toxic to the human body. However, in its white, crystalline form, it can irritate your stomach lining, causing stomach pain and gastrointestinal upset. Avoid gastric mucosa irritation by taking trisodium phosphate as a buffered solution. The U.S. Food and Drug Administration considers trisodium phosphate -- together with disodium phosphate and sodium phosphate -- to be generally recognized as safe in foods. Sodium phosphate and disodium phosphate are approved for use in over-the-counter laxatives.
Safety
If you consume large quantities of trisodium phosphate in its crystallized form, you are likely to experience abdominal pain and a burning sensation in the digestive tract. Large doses may cause chemical shock or collapse, according to the International Programme on Chemical Safety. As a dry powder, trisodium phosphate has a corrosive effect on your skin, eyes and respiratory system. If you work with chemicals, avoid smoking or eating on the job before washing your hands.