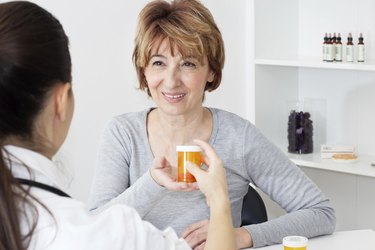 Prednisone is an corticosteroid drug prescribed to treat a wide variety of conditions including adrenocortical deficiency, inflammatory disorders such as rheumatoid arthritis and allergies. Prednisone has many side effects, the most common of which are increased appetite, nervousness, trouble sleeping and elevated blood glucose levels. People with diabetes must adjust their diabetes medications while taking prednisone to account for increasing blood glucose levels. Always talk to your doctor before any adjustment to your medication regime.
Amy Campbell, a registered dietitian and certified diabetes educator at Joslin Diabetes Center in Boston, explains that prednisone raises blood glucose by inducing insulin resistance, causing insulin, either that produced by your body or injected insulin, to become less effective. This results in glucose building up in the blood. Prednisone also triggers your liver to release extra glucose, which when combined with insulin resistance, can lead to very high blood glucose levels, especially in people with diabetes who have a weakened ability to handle blood glucose fluctuation. The effect of prednisone on blood glucose is much milder in people without diabetes.
According to Drugs.com, prednisone reaches its peak effectiveness in 1 to 2 hours when ingested orally and is immediately effective when administered via injection. This means your blood glucose will start to climb to high levels in a few hours after ingesting prednisone and probably much sooner after a steroid shot. It may take several weeks for prednisone to clear from your system. Frequent blood glucose checking is key for you to find out how your body is responding to prednisone therapy.
Dealing with Elevated Blood Glucose
For people without diabetes, acute hyperglycemia results from prednisone are usually mild, and blood glucose levels gradually return to normal once the drug is tapered off. If you chronically use prednisone at high dosages, you may develop steroid-induced diabetes, and your doctor will provide appropriate treatment. This may mean starting diabetes medications such as insulin. If you have diabetes previous to prednisone therapy, you doctor may increase your dosage of insulin. These decisions are dependent on your overall glucose control or A1C and blood glucose patterns. Check your blood glucose more frequently, about 4 to 6 times a day for several days, and discuss your glucose log with a certified diabetes educator or endocrinologist. Do the same while tapering off prednisone, since your blood glucose levels are likely to drop. Reducing diabetes medications may be necessary to prevent hypoglycemia.
As you can expect higher blood glucose levels during steroid therapy, keep your consumption of carbohydrates, especially simple carbs and sugary food, low since these foods tend to cause blood glucose spikes. Limit alcohol to avoid complicating your blood glucose fluctuations. Eat fewer saturated and animal fats, as they increase insulin resistance in the body. If you have diabetes, carry hypoglycemia treatments such as candy, juice, and glucose tablets with you in case your blood glucose suddenly drops.
Is this an emergency? If you are experiencing serious medical symptoms, please see the National Library of Medicine's list of signs you need emergency medical attention or call 911.