Boiling chicken leg quarters is not only one of the easiest ways to prepare chicken, but it's also super healthy, as you can avoid the fat of the frying pan or deep-fryer. A chicken leg quarter includes both the thigh and the drumstick portion of the legs, but you can divide them into two sections, if you prefer. When you're boiling the chicken legs, add seasonings to the water to enhance flavor -- the resulting broth can be saved to cook other dishes, including chicken soup, later.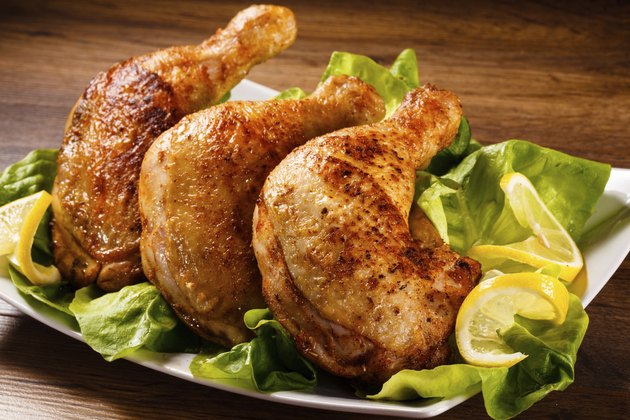 Step 1
Remove the skin from the chicken leg quarters and season with salt and pepper to taste. Place the legs in a large pot.
Step 2
Add any additional seasonings and aromatics to the pot that will help flavor the chicken, such as fresh or dried herbs like rosemary, thyme, oregano, chopped onions and minced garlic.
Step 3
Fill the pot with enough water to fully cover the chicken. Turn the heat to high and bring the water to a boil.
Step 4
Turn off the heat and cover the pot. Allow the chicken legs to cook in the hot water for roughly 15 minutes, until the chicken is cooked to an internal temperature of 165 degrees Fahrenheit for safe consumption. Use a meat thermometer inserted into the thickest part of leg quarters, avoiding the bone, to determine the temperature.
Step 5
Remove the chicken legs from the hot water with tongs. Allow the chicken to cool slightly before handling. You can eat the poached chicken legs, which should be falling off the bone, as is, or you can shred them from the bones for a pulled chicken sandwich or other preparations.
Things You'll Need
Seasonings

Large pot

Aromatics (optional)
Tip
You can brown the chicken leg quarters on all sides in an oiled pan before adding them to the pot if you want your chicken to have a bit of color and slightly more flavor.
Skim all the solids from the broth and spoon off the fat that rises to the top as it cools before storing in the refrigerator for up to five days, or in the freezer for up to three months.