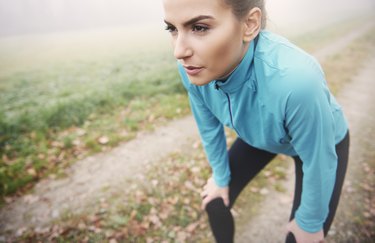 Stomach cramps are one of the most unpleasant, uncomfortable problems associated with running. During a run, cramps or stitches can seriously hamper your performance. If the cramping continues hours after running, however, it can lead to more serious problems. Dehydration does not cause cramping, but cramps can easily lead to dehydration, either through diarrhea or because stomach pain prevents you from drinking enough. If you regularly have severe cramping after running, consult your doctor.
Military fitness expert Stew Smith writes that there is no way to pinpoint the exact cause of cramps; there are different reasons and they vary from person to person. One reason runners might get cramps more than other athletes is that the impact of running jars their internal organs, including their stomach and intestines, making them more prone to pain and aggravation. Smith recommends addressing this possible cause by including abdominal work and stretching in your fitness routine.
In "Running Well," author Sam Murphy advises taking pre-run measures to lessen stomach discomfort during or after your workout. If you are prone to cramps, avoid eating for at least two hours before running, and avoid high-fiber foods. Be sure to take plenty of liquids to avoid dehydration, which can exacerbate cramps.
One of the chief risks of stomach cramps is diarrhea and the associated fluid and electrolyte loss, which can lead to dangerous dehydration during or after a run. According to "Backpacker" magazine, you can lose as much as four gallons of liquid in 24 hours if you have severe diarrhea, so it is vital to continue taking liquids, even if your stomach is cramping after running. Because diarrhea causes you to lose electrolytes, you should try to take clear fruit juices, broth, or electrolyte drinks in addition to plain water. This will prevent potentially dangerous depletion of sodium and potassium levels.
Though dehydration won't cause cramps, it can worsen any painful symptoms, so it is important to stay hydrated throughout the period of exercise and post-exercise. According to "Getting Real About Running," water does not cause stomach cramps while running. In fact, it can help ease them by keeping your muscles lubricated. So even if you deal with stomach pains, it is important to keep drinking plenty of water. By keeping yourself hydrated you reduce the risk of heat stroke and muscle pain, and help your body recover more quickly.
Is this an emergency? If you are experiencing serious medical symptoms, please see the National Library of Medicine's list of signs you need emergency medical attention or call 911.