Too much vinegar can ruin a dish, making it unpleasant or nearly impossible to eat. Whether it was bad recipe or simply measured incorrectly, there are a few simple fixes to reduce the vinegar flavor in a variety of different foods. Try to pick the remedy that is best for your dish based on it's flavor, and combine different solutions if they are appropriate for your recipe.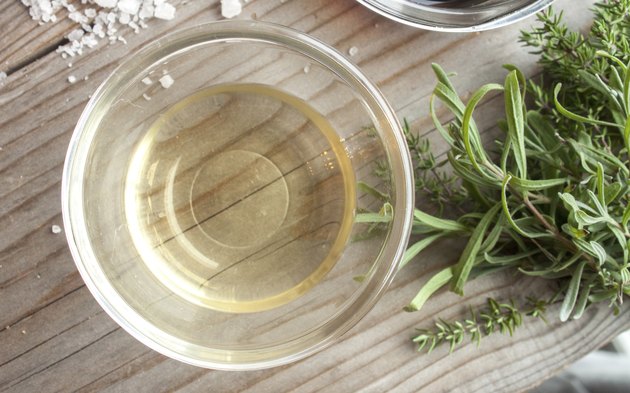 Step 1
Add brown sugar 1/4 tbsp. at a time per 2 cups of food. Add the sugar, stirring the mixture thoroughly to combine, and then taste the food. Continue adding brown sugar 1/4 tbsp. at a time until the vinegar flavor is reduced to your liking.
Step 2
Add 1/8 cup of mashed anchovies per 2 cups of food to the dish that's being cooked. Continue cooking the food over low heat for 20 minutes to let the flavors combine, stirring the mixture regularly. Add more anchovies as desired.
Step 3
Mix in more oil for recipes such as salad dressing that involves oil and vinegar. You may end up with more of the item than intended, but it can be kept in a refrigerator for later use if you get the proportions correct.
Step 4
Put a small amount of soy sauce into the dish to taste, and stir to combine. Taste the mixture, adding more soy sauce to the recipe as desired.
Step 5
Measure 1/8 tsp. baking soda per 1 cup of food. Stir in the baking soda. Baking soda can help reduce the vinegar taste and is also commonly used to counteract too much acidity in other foods such as cooked tomatoes. Make sure the baking soda is fully combined with the food before tasting it. Add more if necessary.
Step 6
Cut a large potato into quarters and add it to the food. Continue heating the food over low heat for 20 minutes. Remove the potato pieces and taste the food, repeating the process one more time if necessary.
Things You'll Need
Brown sugar

Canned anchovies

Oil

Soy sauce

Baking soda

Large potato, quartered