Most Americans have trouble losing weight, but for 17 percent to 37 percent of adolescent males bulking up is the problem. Just like being overweight can wreak havoc on your body, being underweight is bad news for your health -- it can cause stunted growth, low energy and weakened muscles. While eating tons of doughnuts and downing soda by the gallon is sure to cause weight gain, it's not the healthy way to do it.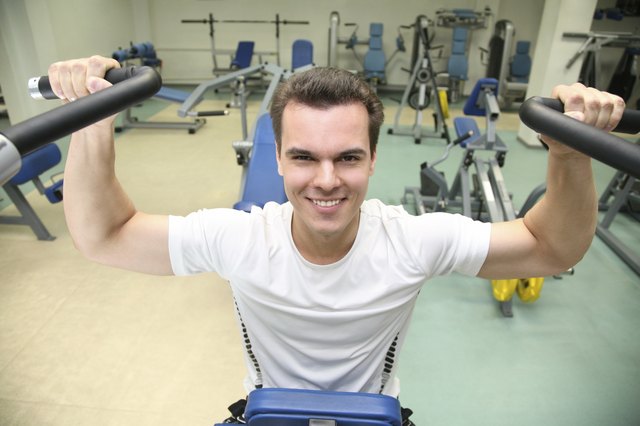 Counting Calories
Weight gain occurs when you regularly consume more calories than you burn. The key to gaining weight healthfully is to make sure that these calories are coming from quality food sources and not nutrient-poor food items like chips and candy. Increase your teenage boy's calorie intake by about 500 calories above optimal intake per day, which can range from 2,000 to 3,200 calories depending on activity level. This can lead to a weight gain of one pound per week. HealthyChildren.org, a publication from the American Academy of Pediatrics, recommends a weight gain of 1 to 2 pounds per week. Any more than this generally leads to increases in fat, rather than muscle.
Don't Glorify Protein
Many people turn to protein -- often in the form of powders and supplements -- when trying to gain weight. Although teenage boys trying to gain weight do need adequate protein -- about 1.6 to 1.7 grams per 2.2 pounds of body weight -- it's not the only important nutrient. To gain weight healthfully, teen boys should consume a balance of carbohydrates, protein and fat. A typical meal may be 6 ounces of chicken breast, 1/2 cup of cooked brown rice and a side salad with assorted veggies topped with an olive oil-based dressing. Finish it off with an 8-ounce glass of milk and some water.
Pump Some Iron
Regular strength training can help encourage growth from muscle rather than fat. When you put a resistant force on your muscles through strength training, the muscles respond by overcoming the force and becoming stronger. In addition to weight gain, strength training can also improve a teenage boy's flexibility and stamina. Lift weights in sets of eight to 15 repetitions, and wait at least 48 hours between difficult workouts. This will allow the muscles to recover and grow.
Say Sayonara to Supplements
Supplements like creatine, human growth hormone and DHEA may help teenage boys gain weight, but unlike a healthy eating plan, they come with serious side effects and the potential to cause major health problems. Creatine may cause kidney failure, while DHEA has been linked to acne, aggression and certain types of cancer. Human growth hormone may negatively affect bone marrow.