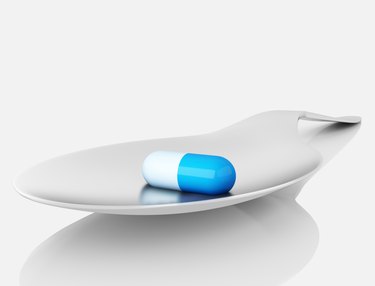 If you experience weight gain, lack of energy and hair loss, your body may not be producing enough hormones, according to PubMed Health. Thyroid-regulating medications such as levothyroxine can help these symptoms, but only if you truly have problems with your thyroid. If your doctor approves, you can also combine some types of diet drugs with levothyroxine to help you lose weight more quickly.
Levothyroxine, commonly marketed as Synthroid, treats hypothyroidism, according to PubMed Health. If you have hypothyroidism, your thyroid gland does not produce enough hormones and hampers your normal body functions, including your ability to lose weight. While levothyroxine can help normalize your thyroid function, you might experience unwanted side effects such as headache, fever, stomach cramps, nausea, nervousness, insomnia and increased appetite.
Orlistat and Levothyroxine
Orlistat is a Food and Drug Administration-approved diet medication that enables your body to not digest the fat from the food you eat, according to the National Institute of Diabetes and Digestive and Kidney Diseases. Orlistat is marketed as over-the-counter Alli and prescription Xenical and can help you lose 3 to 7 pounds more each year than you would with just dieting and exercising. You can safely take levothyroxine with orlistat, according to the University of Maryland Medical Center Drug Checker. However, take all of your medications and supplements two hours before or after taking orlistat.
Phentermine and Levothyroxine
Phentermine, or Adipex-P, is the most commonly-prescribed diet medication in the United States, notes NIDDK. Phentermine suppresses your appetite and increases your energy; you can take phentermine with levothyroxine, according to the UMMC Drug Checker. However, do not take phentermine if you have high blood pressure or a history of substance abuse. You also cannot take phentermine for more than 12 weeks at a time due to its habit-forming potential.
Diethylpropion, Phendimetrazine and Levothyroxine
Your doctor may prescribe diethylpropion or phendimetrazine to help suppress your appetite and make it easier for you to stick to a diet, according to NIDDK. You can take either of these drugs while taking levothyroxine unless your doctor otherwise advises, notes the UMMC Drug Checker. Do not take any appetite suppressants if you are pregnant, nursing or an older adult; most doctors only prescribe diethylpropion or phendimetrazine for three to six weeks at a time.