The liver is an essential organ for the function of the human body. Blood that leaves the digestive tract passes through the liver, which extracts and absorbs nutrients and toxins from the blood before it reaches the rest of the body. The liver also produces bile, which consists of water, bilirubin, cholesterol and lipids. This is essential for normal digestion and absorption of fats. Infections, genetic conditions or chronic conditions can cause liver problems.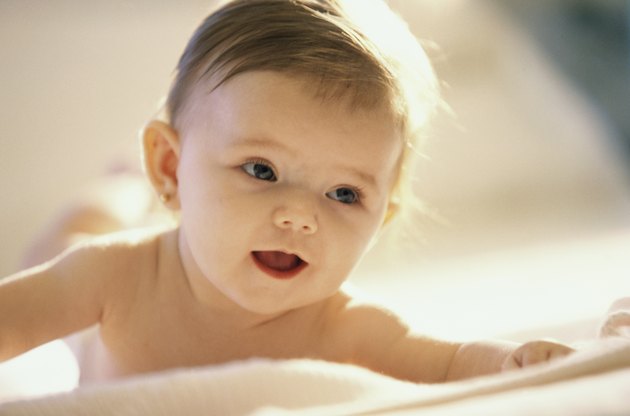 Jaundice
Jaundice gives your skin and the whites of your eyes a yellowish tint. Jaundice occurs when bilirubin builds up in the blood. Bilirubin is a yellow pigment that is found in bile and produced by the liver. Up to 60 percent of newborns will experience some sort of jaundice, reports the March of Dimes. However, a 9-month-old baby who has jaundice will need medical attention since jaundice is a sign of liver problems.
Swelling
Liver disease is often suspected when a baby presents with a swollen abdominal cavity and lower extremities. This fluid buildup in the abdominal cavity and lower extremities is called ascites. The fluid buildup is a result of portal hypertension, whcih occurs when the vein that carries blood from the digestive tract to the liver becomes blocked and causes pressure on the vein.
Changes in Stool
Healthy babies will excrete bilirubin through their stools which gives stools their color. Babies who have liver problems will not pass bilirubin through their stools and causes the baby's stools to be pale in color. The stools may also contain blood or be tar colored.
Dark Colored Urine
Healthy babies will have clear to light colored urine. A baby with liver problems will have dark colored urine. Dark colored urine occurs when there is a buildup of bilirubin in the blood. A urine test will be able to decide if bilirubin is present. Dark colored urine is also a sign of dehydration. If the baby is still drinking normally and the urine is dark, seek medical attention.
Other Signs and Symptoms
Babies with liver problems may also have a loss of appetite and experience nausea and vomiting. Babies may also be lethargic and have a change in their sleeping patterns. Babies with liver problems often will not gain weight properly. If your baby is showing any of these signs and symptoms contact your pediatrician to properly diagnose and treat the baby.