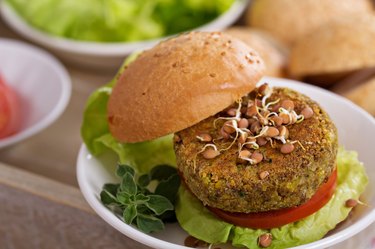 Whether you never eat meat or are simply trying to cut back for health reasons, frozen veggie burgers offer the kind of kind of quick-but-healthy meal option that takes well to more than one kind of cooking technique. It's always best to read the individual manufacturer's package instructions, because the exact recommended cooking time may vary. In general, however, most frozen veggie burgers require only a few steps, no matter which way you choose to cook them.
Pan-Cooked Patties
Step 1
Spray frozen burgers on both sides with cooking oil. Set the frozen burgers in an unheated skillet.
Step 2
Turn the burner to Medium High and cook the veggie burgers for about four minutes.
Step 3
Flip the veggie burgers and cook an additional three to four minutes.
Step 4
Remove from the pan and set on a serving platter.
Baked Burgers
Step 1
Set the oven to 350 degrees Fahrenheit.
Step 2
Put frozen veggie burgers on an ungreased baking sheet. Set the baking sheet in the preheated oven.
Step 3
Cook the burgers for about six to seven minutes. Pull the baking sheet out of the oven and flip each burger. Return the baking sheet to the oven.
Step 4
Cook an additional six to seven minutes and take the baking sheet out of the oven.
Step 5
Remove the veggie burgers from the pan and set them on a serving platter.
Microwaved Meal
Step 1
Put two frozen burgers on a microwave-safe plate and set the plate in the microwave.
Step 2
Set the timer for 60 seconds and cook the burgers on High.
Step 3
Flip the burgers and cook them on High for another 60 to 90 seconds.
Step 4
Remove the burgers from the microwave and set them on a platter. Microwave additional burgers in pairs, as needed.
Grilled Goodness
Step 1
Preheat a gas grill to Medium, or prepare a charcoal grill for Medium Heat.
Step 2
Set veggie burgers directly on the grill grates.
Step 3
Cook the veggie burgers for three minutes, then flip them.
Step 4
Cook for another three minutes and insert a cooking thermometer. When it reaches an internal temperature of 165 degrees Fahrenheit, remove from heat.
Step 5
Put the cooked veggie burgers on a platter and serve.
Tip
Even if the manufacturer doesn't specify spraying a grill or baking sheet with cooking spray, you may find your equipment tends to stick to food without it.
The classic way to enjoy veggie burgers is, of course, with hamburger buns, traditional toppings and condiments. But the patties can also act as a bunless "meat" entree. Pair it with rice, potatoes or noodles, along with a steamed vegetable or green salad.
Try veggie burger products in place of ground beef in other recipes, such as casseroles, Stroganoff-type noodles, stew or tacos. Instead of cooking the frozen burgers first, allow them to thaw overnight before crumbling and browning them as you would ground beef.
Warning
Check labels carefully if you are allergic to certain foods. Veggie burgers are typically made with a variety of fillers, and might contain wheat and dairy ingredients. Unless the package explicitly says "lactose free," "gluten free" or makes a similar specification, it pays to scrutinize the ingredients list.