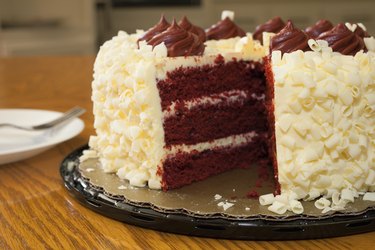 The most important trick to baking red velvet cake from a box is hiding the box and passing it off as your own. Assembling this decadent layer cake made of buttermilk, cocoa powder and a heavy dose of red food coloring requires its own tender loving care -- you might as well get a little help from your preferred cake brand. Ensure that your cake tastes homemade by devoting a little extra attention to the details.
Let the Chocolate Shine
Cake mixes contain preservatives that can mute the flavors of their individual ingredients. The chocolate flavor of red velvet cake is pretty subtle -- it comes from dry cocoa powder -- so add complimentary flavors to amp up the chocolate flavor. For example, before spreading the batter into the pan, add 1 to 2 teaspoons of espresso powder or instant coffee, or 1 to 1 1/2 teaspoons of white vinegar or balsamic vinegar.
Upgrade for Texture
Many cake mixes call for adding vegetable oil, water and eggs to dry ingredients. For a richer flavor, substitute equal quantities of melted butter for the oil. Adding an extra egg is one way to add density. Substitute the water with equal parts milk, or in the case of red velvet cake, buttermilk. Or substitute half parts water and half parts sour cream. For a rich consistency, make sure to incorporate these ingredients evenly into the batter, ideally using an electric mixer. Additional dairy products can mute the flavor of chocolate.
Tread Lightly
Cook's Illustrated recommends slightly under-baking chocolate cakes for a rich consistency and vibrant flavor. Don't over mix and invest in an oven thermometer. If a toothpick or taste tester inserted in the center of the cake comes out with moist crumbs, remove the cake from the oven and place the pan on a wire cooling rack for about 10 minutes. A generously buttered pan is your best friend when it is time to flip the cake.
Add a Personal Touch
Make a box cake feel special with homemade frosting. It's easy to make yourself, and many of the store-bought varieties are intensely sweet and generic tasting. To make the traditional cream cheese frosting, use 3/4 parts butter to 1 1/2 parts confectioner's sugar to each part cream cheese. Cream the butter and cream cheese and add a drizzle of vanilla extract. Gradually add the confectioner's sugar until everything is incorporated. Garnish with toasted coconut, toasted almond slivers or a drizzle of melted white chocolate.