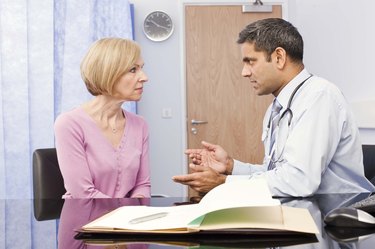 A pulmonary embolism is a blockage in the lungs usually caused by a blood clot. The symptoms include shortness of breath, chest pains, anxiety, rapid heart rate and dizziness. Many situations can lead to a pulmonary embolism, including a recent surgery, pregnancy, hypertension and smoking. Poor diet and a lack of exercise that leads to obesity can increase your risk of a pulmonary embolism as well. There is no specific diet for patients with pulmonary embolism; however, doctors recommend a healthy diet to prevent ailments that can lead to the formation of clots. If you are prescribed warfarin, an anticoagulant medication, for a pulmonary embolism you need to avoid or manage your intake of certain foods.
Healthy Diet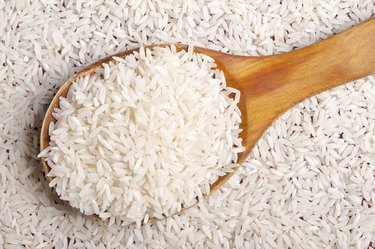 A diet filled with saturated fats and cholesterol can lead to obesity and atherosclerosis, both of which increase your risk of pulmonary embolism. Atherosclerosis, or a hardening of the arteries, is frequently a culprit of clotting, according to the American Society of Hematology, and the American Heart Association reports a strong correlation between atherosclerosis and cholesterol. A diet rich in rice and fruit, without fat and cholesterol, reduces cholesterol. Healthy diets need to include a variety foods such as lean proteins like chicken, fatty fish, whole grains such as oats, fruits such as apples and a variety of vegetables to ensure proper nutrition, reports NYU Langone Medical Center.
Vitamin K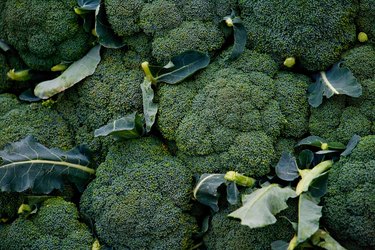 Vitamin K can reduce the effectiveness of warfarin, a drug commonly prescribed to patients recovering from pulmonary embolism. However, if you are on warfarin you shouldn't eliminate vitamin K completely from your diet because that can lead to bleeding or clotting. The University of Pittsburgh Medical Center advises that you maintain a consistent consumption of vitamin K. Foods high in vitamin K include kale, broccoli, leafy green vegetables and soy products.
Foods to Eliminate or Limit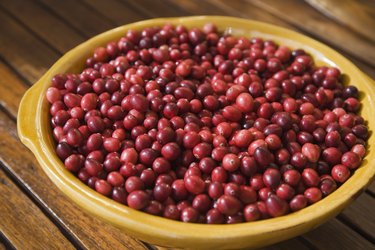 Cranberry products such as juice can increase the potency of warfarin, which can lead to bleeding problems. If you have a pulmonary embolism and are prescribed warfarin you should avoid eating cranberries and drinking cranberry juice. Alcohol can also increase the effect of warfarin and should not be consumed while taking anticoagulants. MedlinePlus recommends that pulmonary embolism patients should avoid licorice as it might decrease the effectiveness of warfarin and lead to clotting.
Supplements and Medications
The National Heart, Lung and Blood Institute recommends that pulmonary embolism patients who are taking anticoagulants talk with their doctor before making changes to their diet, or taking vitamins or other medications. Over-the-counter medications and herbal supplements may contain ingredients that can affect the medication and increase the risks of bleeding or clotting.
Is this an emergency? If you are experiencing serious medical symptoms, please see the National Library of Medicine's list of signs you need emergency medical attention or call 911.