Indigestion, or dyspepsia, occurs when you have difficulty digesting food, and it may present as a number of symptoms, including stomach pains, uncomfortable feelings of fullness or a burning pain in the upper abdomen. You can prevent, treat and gain relief from indigestion by altering your lifestyle, including changing your nutritional habits. The National Digestive Diseases Information Clearinghouse, NDDIC, recommends that you avoid consuming irritating substances such as caffeine and alcohol, and eating small, low-fat meals throughout the day.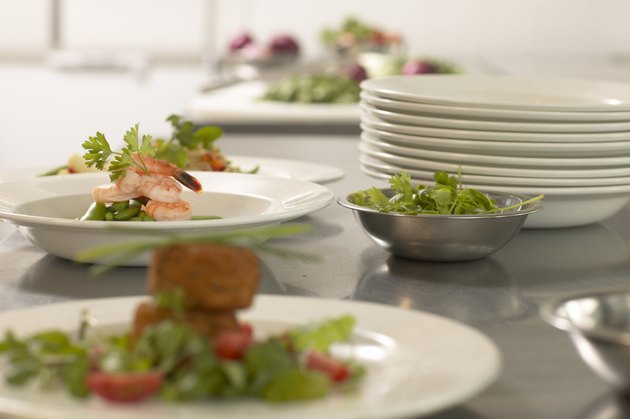 Drink Water
Drink eight, 8-oz. cups of water a day to help prevent and treat indigestion. Drinking water may help neutralize acids and flush them down to the stomach, where acid belongs, instead of the esophagus, where acids can cause acid reflux, according to RefluxMD.com. Water also helps move food wastes through the digestive system, preventing constipation and reducing uncomfortable stomach bloating. Aim to drink a glass of water before and after meals and swap caffeinated drinks, which irritate the stomach lining, for water.
Opt for Low-Fat
Choose low-fat foods over fattier foods, which are difficult to digest and which can cause stomach upsets, heartburn and indigestion. Look for lean cuts of meat and protein such as chicken, turkey and fish, and cook via steaming, grilling or roasting methods, instead of frying in oil. Select low-fat milk instead of full-fat versions, as full-fat milk may slow digestion and irritate the stomach.
Use Ginger and Garlic
A 2011 study published in the "World Journal of Gastroenterology" found that ginger stimulated gastric emptying in participants that had functional dyspepsia, which could help reduce upper gastrointestinal symptoms. Garlic is recommended to treat symptoms of gas and flatulence. The vegetable bulb kills off harmful bacteria and neutralizes undesirable toxins to eliminate gas and improve digestion.
Eat Probiotic-Rich Yogurt
Many yogurts are a source of probiotics, which are tummy-friendly bacteria that aid good digestive health. Look for plain, no-sugar added varieties, because many commercial yogurts sold in stores have a high sugar content, which can further upset the bacterial balance in the gut. Snack on a serving of plain yogurt between meals or as an-after dinner dessert to soothe your tummy.