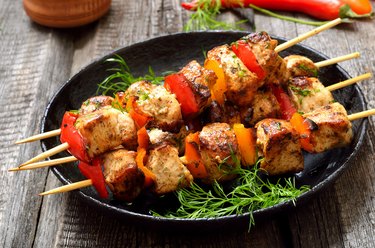 If weather keeps you from grilling your shish kabobs on your outdoor grill, broiling them in your oven produces nearly the same delicious effect. Assemble the main components: a basic marinade and chunks of your favorite meats, vegetables and even fruits.
It's a relatively simple meal your entire family will enjoy — even picky eaters usually find a few things they like! Make them healthy, spice them up or experiment with something new. You can create different variations of oven-broiled shish kabobs for any occasion.
Step 1: Marinade Your Ingredients
First, make your own marinade or use a store-bought one. Try mixing together vegetable oil, garlic, lemon juice, oregano, salt and pepper in a large bowl or large liquid-tight plastic food bag.
Cut your meat into cubes and place them in the bowl or bag of marinade and stir or toss to coat the meat evenly.
Marinade the beef overnight in the refrigerator. If you're using a bowl, be sure to seal it tightly.
Step 2: Prep Skewers and Oven
Soak your bamboo skewers in water for 30 minutes before assembling your shish kabobs. If you're using metal skewers, brush them with a thin layer of vegetable oil.
Adjust your oven rack so that it's approximately five inches from the broiler element and set your oven to broil.
Step 3: Assemble Your Kabobs
Decide what vegetables, fruit or tofu you want to include in your kabobs and chop it up into cubes, just like to did with the meat.
Now you can take the meat out of the fridge and assemble your shish kabobs on the skewers, alternating meat, vegetables and any other ingredients you want to include.
Place the shish kabobs on the broiler pan and place the pan in your oven. Watch the shish kabobs closely, as oven temperatures vary.
After approximately 7 to 8 minutes, turn the kabobs over to the other side to ensure even cooking.
You'll know it's time to remove the shish kabobs from the oven when you insert a meat thermometer inserted into several beef cubes and it reads at least 145 degrees Fahrenheit.
Step 5: Let Rest, Then Serve and Enjoy!
After you've taken the shish kabobs out of the oven, let them rest on a platter for a few minutes to allow the juices in the meat to redistribute.
Then get ready to serve them to your family and friends and enjoy the fruits (and vegetables) of your labor!