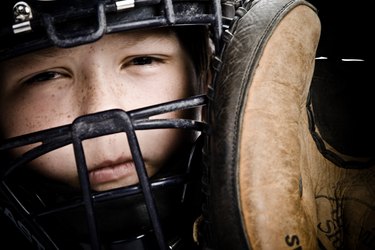 A baseball catcher spends most of his playing time as the target for fast-moving baseballs, dangerously close to a swinging bat. It's little surprise that helmet, chest protector and shin guards are mandatory catcher's gear. Since you'll be spending a lot of your time in this protective gear, a few minutes invested to be sure it fits as well as possible is time well spent. Catcher's gear in adult sizes will typically fit players 15 and older; youth gear is generally appropriate for players 12 and younger; and players ages 13 and 14 may fit into intermediate-sized gear.
Helmet
Step 1
Wrap a flexible measuring tape around your head, just above your ears. Make sure the tape crosses the occipital bone (the bump on the back of your head) and is parallel to the floor.
Step 2
Pull the tape gently snug, but not tight--how tight the tape fits is how tight your catcher's helmet will fit--and read the measurement in inches.
Step 3
Remove the measuring tape, then remeasure once or twice more to make sure your measurements are accurate.
Step 4
Purchase a helmet with the same head circumference as what you just measured; the head circumference will be marked on the product parking or on a manufacturer sizing chart.
Chest Protector
Step 1
Stand up straight in front of a mirror.
Step 2
Hold the "zero" end of a measuring tape against the top of your sternum--between your collarbones--and let the tape fall straight down the front of your body.
Step 3
Read the measurement on the tape (in inches) where it crosses your belly button. This is the appropriate length for a chest protector.
Shin Guards
Step 1
Stand up straight in your bare feet. You should be wearing clothing that's either light and tight enough that you can easily find the middle of your kneecap, or pants that are loose enough that they can be rolled up to allow access to your knee.
Step 2
Bend down and measure from the middle of your kneecap down to the bottom of your shin (the bend of your ankle). This step is much easier if you can ask a friend for help.
Step 3
Purchase shin guards with the same length (in inches) you just measured.