Herpes in the mouth, also called oral herpes, is a common skin condition. The American Social Health Association (ASHA), explains that the infection is often unrecognized and undiagnosed. Oral herpes infection is caused by a virus called the herpes simplex virus (HSV). There are two types of HSV, Type 1 and Type 2. Typically, HSV-1 will cause oral herpes while HSV-2 will cause genital herpes, but both types can infect the genitals or oral area. Whether symptoms exist or not, the virus still exists in the body and can eventually make its presence known through illness.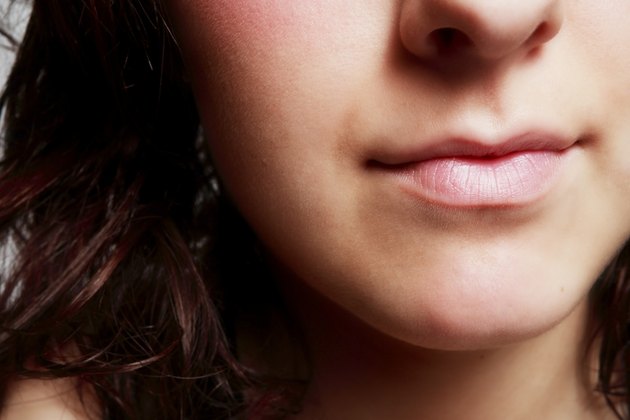 Asymptomatic
The ASHA explains that oral herpes often goes without symptoms or presents symptoms that are not recognized. Sometimes the outward appearance of the viral infection is attributed to something else, such as an ingrown hair. The lesions can also be missed because they appear in places that can't be seen.
Prodrome Symptoms
Prodrome symptoms are essentially warning signs that a herpes outbreak is occurring. These symptoms occur one or two days before the actual herpes blisters appear. Individuals may experience itching, tingling or pain at the site of the impending blisters, explains the University of Maryland Medical Center (UMMC). The first time an individual has an outbreak, it is not likely that these prodrome symptoms will be recognized. In the future, it is helpful to recognize such symptoms as medications can be applied right away to speed the recovery and lessen the symptoms of the outbreak.
Initial Outbreak
The first appearance of oral herpes may be different than future outbreaks. It is possible for an individual to have had several outbreaks before even realizing they have the herpes virus. The UMMC points out that the first outbreak may actually be more mild than recurring outbreaks, or all outbreaks may be just as mild.
When the virus becomes active small red bumps will appear inside the mouth, on the back of the throat, in the nose or even on the cheeks. These blisters will become fluid filled and eventually burst, oozing pus, fluids or blood. The blister itself is often painful. A scab will form over the blister while it heals. It is possible for more blisters to appear while the first batch are healing. In addition to the sores, an individual may notice swollen lymph nodes in the neck, increased salivation and foul breath, suggests the UMMC.